Dom Pérignon Rosé Vintage 2009: the story behind the wine
Dom Pérignon Rosé Vintage 2009 is the harmonious result of fruitful endeavours by the French champagne house and its cellar master Vincent Chaperon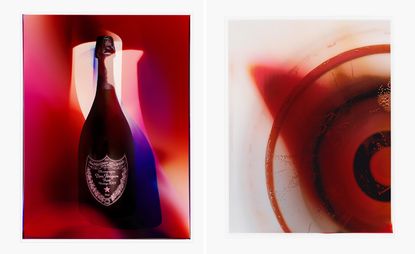 (Image credit: © Hugo Mapelli)
In partnership with Dom Pérignon
The product of a harsh winter, intense August sunshine and 12 years in the cellar, Dom Pérignon Rosé embodies a dedication to creation and the radical exploration of new possibilities.
When Vincent Chaperon was inducted as chef de cave (cellar master) at Dom Pérignon, he was offered some learned advice: 'Push the limits of creation. Question everything. Embrace risk and the element of surprise. Experiment freely. Prepare for a job that will be as much a matter of art as of technique.'
This job was to form an intimate relationship with Dom Pérignon's wines and vineyards, creating assemblages that honour the quality of the grape and the harmony of the wine. He set out to draw inspiration from the maison's heritage and history but to also reinvent with new vintages. The weather, Chaperon knew, would also play a big part.
In 2009, almost a decade before he took up his new position, a winter of intermittent snowfall and low temperatures gave way to a warm but rainy spring. The weather did not encourage flowering and there was a threat of mildew. However, despite some worrying stormy periods in July, the summer season was dominated by sunshine that intensified in August, remaining hot, dry and sunny for five consecutive weeks. The vines ripened in complete serenity, with the September harvest taking place under idyllic conditions. The 2009 grapes proved to be superlative, showing exceptional health, maturity and richness, underlined by an aromatic expression.
To Chaperon's delight, some 13 years later, the assemblage of Dom Pérignon Rosé Vintage 2009 would represent this accomplishment. 'The rosé expresses a timeless desire to explore the edge, harnessing the raw power of the pinot noir grape in a radiant assemblage,' he says. 'Tempered by a slow, masterful transformation during nearly 12 years in the cellar, it's a vibrant incarnation of both light and darkness.'
The Rosé Vintage 2009 unlocks all the aromatic nuances of the pinot noir grape – strawberry, cherry, raspberry and fig – heightened by the delicate, mineral elegance and pristine notes of the chardonnay. There are fleeting aromas of rose, orange and saffron, sombre touches of blackcurrant, and sweet notes of liquorice and gingerbread. Full-bodied and enveloping, round and creamy, sweet and voluptuous, the fruit dominates. Its freshness, redolent of savouring a newly picked berry, reveals an intense palate, deliberate yet light, powerful yet contained, perfectly embodying the fruit of that memorable 2009 harvest.
Receive our daily digest of inspiration, escapism and design stories from around the world direct to your inbox