Bill Amberg forays into felt for new vodka bottle sleeve
The British-based leather maker has collaborated with an English vodka distillery and a sustainable material to make a versatile bottle cooler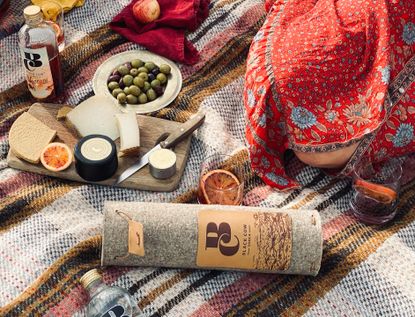 (Image credit: TBC)
For over 30 years a craftsman, designer and innovator specialising in bespoke leather products, interiors and furniture, Bill Amberg has always held faithful to the simplicity, honesty, and versatility of animal hide. Now he has fallen in love with a new material. 'English wool felt is curious and wonderful,' says Amberg, flexing a small but thick, variegated grey-brown sample on the wooden work bench of his creative HQ in Bruton, Somerset. 'It is the great insulator and the great protector. And in just the same way that leather has been bi-product of the meat industry for the past 30,000 years, felt has always been a bi-product of the clothing manufacture.'
A feel for felt
It is made of nothing more than waste wool, he enthuses: 'Excess material from trousers and jumpers. The manufacturing process is fascinating too; they lay swathes of crude, waste wool material out and pass over it a bed made up of thousands of tiny needles.' No chemicals or binding agents are required. 'The repeated micro-teasing fuses the threads together to make this unusual material that is soft and strong, with pleasing acoustic and thermal properties. It's a process that is very hard to reproduce synthetically.'

Bill Amberg has employed his new affection for this uniquely fuzzy material to a new project – a collaboration with West Dorset milk vodka outfit Black Cow – developing, designing and hand-making an insulated bottle sleeve intended to keep spirits cool on picnics and at festivals.

Because their vodka is distilled using sustainable sourced ingredients – nothing but the milk of grass grazed cows, or, in the case of the brand's strawberry flavoured variant, misshapen fruits rejected by the supermarket business – the Black Cow people wanted to develop an accessory that held true to its environmentally friendly values. Rejected insulation materials included Neoprene, also commonly used as a cold bottle insulator, which employs petroleum during its manufacturing process, while potentially carcinogenic polystyrene used in chill boxes is non biodegradable and breaks down in the marine environment into smaller pieces, negatively impacting water quality and harming marine life. Fibre glass is non biodegradable and often contains harmful formaldehyde and even synthetic fleece (made of plastics and aluminium) releases microfibres in the water system non degradable.
RELATED STORY
'Wool felt, on the other hand,' explains Black Cow co-founded Paul Archard, 'is sustainable, renewable, and 100 per cent green! Its manufacturing process has a very low environmental impact. Felt has an uncanny ability to trap air and behave as a thermal insulator, keeping things either hot or cold by absorbing the moisture in the air.'

Inspired by research by mountain apparel developers that found layers of natural fibres such as wool, cotton, silk and tweed performing favourably compared to man-made polar fleece and Goretex, the idea of working with Amberg, Paul Archard explains, was to make a piece of luggage that 'becomes an "old friend" and isn't immediately discarded after one use. Amberg's signature as a leather worker arrives in a vegetable-tanned leather label, a bi-product of the shoe industry.

Combined with a iced vodka bottle straight from the freezer, the sleeve can also be used to keep a round truckle of the Black Cow brand's Deluxe Cheddar cheese snug and chilled whilst in transit. 'Since the global lockdown, our attitudes to the outdoors have changed dramatically,' says Paul Archard. 'We are eating and drinking outdoors now and the hospitality industry is adapting. We're looking forward to a lot more winter picnics.'
INFORMATION
The Black Cow x Bill Amberg picnic bottle cooler, £34.99

blackcow.co.uk (opens in new tab)
selfridges.com (opens in new tab)