Vitra furniture is typecast by Robert Stadler for Salone del Mobile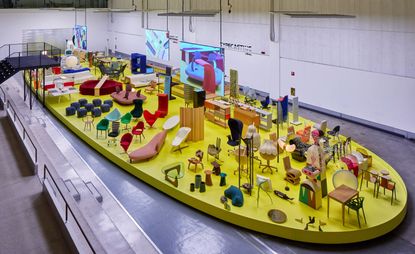 (Image credit: TBC)
At Salone del Mobile, when everyone's obsessed with the shock of the new, it takes inventive thinking to showcase a brand that's as famous for its 20th-century classics as its contemporary additions. And when your foundations are rooted in 'good design', simply churning out countless novelties somewhat goes against the grain. Vitra's solution for 2018 was to commission Paris-based designer Robert Stadler to curate an installation for La Pelota, the former sports arena turned exhibition space in the Brera district where the brand exhibited with the Bouroullec brothers a decade ago.
'I got a call from Rolf [Fehlbaum, chairman of the family-owned company] and he asked me to stage an exhibition that would showcase Project Vitra yesterday, today, and tomorrow,' Stadler explained over coffee in the Vitra Haus café. 'It was an open brief seeking to encapsulate the whole panorama of the brand. I was invited to choose from historical pieces from the archive, current designs, prototypes and even flops that never achieved success.'
The result, 'Typecasting: An Assembly of Iconic, Forgotten and New Vitra Characters' is signature Vitra: fun, expressive and as much about function as form. Forget a dry chronological or typological approach, Stadler throws history and category out the window with his anthropological grouping of 200 furniture items and objects into nine tribes. It's like The Breakfast Club but on a larger scale and for furniture; there's the Beauty Contestants, the Athletes, the Spartans and the Slashers to name a few.
'I'm using the furniture to explore its social role in a contemporary environment,' he explains. 'It's a comment on ways of living in a digital age, with self-staging on social media it's even more important how we use and choose furniture. Objects always had a representational role, but maybe today this is even more intense.'
The groupings are loosely interpreted; Compulsive Organisers will include storage, but also stacking chairs and a George Nelson clock. 'It ranges from how an object is conceived to whether it can self-organise and the clock works in the mix because time is emblematic for organising life,' he says. The Restless group will include office chairs on wheels but also an Antonio Citterio table that is height adjustable.
Stadler is hoping the installation, that will also include film footage, will encourage onlookers to reconsider familiar pieces and also question his categorisations. 'It's not a scientific truth, it's more of an ironic, humorous take. You can be both a Spartan and a Compulsive Organiser. It's not a coincidence that Eames chairs could fit in all categories because they are champions. They perfectly fit the Athletes because they have thin, super strong feet but they are also at home among the Beauty Contestants.'

This transhistorical approach also reveals how social behaviour remains consistent throughout the decades. 'We think we've invented things like co-working and co-habiting,' says Stadler, 'but these activities were there in the 1930s and the 1960s. 'Typecasting' attempts to show how societal changes affects established furniture typologies over time.' Collective living spaces are the focus for Vitra's new pieces; a series of six 'Communal sofas' by the Bouroullec brothers, Konstantin Grcic, Barber & Osgerby, Commonplace Studio and Stadler, all on display as part of Communals gang.
Why does Stadler think Vitra, who have never worked with him before, approached him to curate such an ambitious exhibition? 'Over the past three years I've staged several exhibitions, so perhaps because I demonstrate a critical view of the production of design, but am also a designer. Artists who inspire me most – such as Bruno Munari – have this particularity; they have distance and a critical view but also produce.
Stadler also shares Munari's wry sensibility, something that no doubt attracted Vitra. 'Humour is important for everybody,' he smiles. 'There is definitely an ironic element to grouping these communities, but the installation itself will be very sleek.'
Robert Stadler explores the personification of furniture pieces featured in 'Typecasting', an exhibition staged for Salone del Mobile 2018
INFORMATION
Typecasting: An Assembley of Iconic, Forgotten and New Vitra Characters is on display at Salone del Mobile from 17-22nd April 2018. For more information check the Vitra website
Receive our daily digest of inspiration, escapism and design stories from around the world direct to your inbox