Tom Hingston Studio rebrands British jeweller Mappin & Webb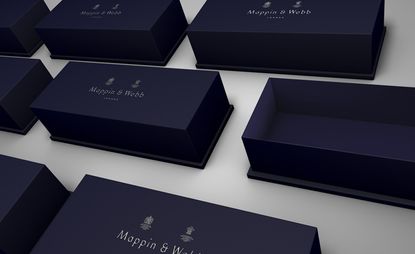 (Image credit: press)
It's not everyday that a heritage brand signs up for a new identity, yet that was the covetable creative challenge extended to Wallpaper* collaborators Tom Hingston Studio (opens in new tab) on behalf of British jeweller and silversmith Mappin & Webb.

Appointed by the house's new creative director Elizabeth Galton, the London-based design agency was charged with the task of bringing the 235-year-old brand - including its logo, packaging and imagery - expressly into the 21st century.

Already an icon of British craftsmanship as the holder of two Royal Warrants to HM The Queen and HRH The Prince of Wales, Galton's brief centered around revitalising the luxury stalwart for the world stage. 'Mappin & Webb's ambition was to generate a renewed energy and excitement around the brand, focusing on jewellery,' says Tom Hingston. 'Our task was to develop a tone of voice and creative approach that would support its new product direction.' Founded in 1997, Hingston's creative agency specialises in art direction and design identity, having previously worked with luxury houses from Dior to Solange Azagury-Partridge. Hingston also designed a cover for our August 2012 Handmade issue (opens in new tab) (see W* 161).

But for this project, Hingston began his search in Mappin & Webb's extensive archives. 'Typographically we stumbled across some real gems,' he explains. 'There was a point in the brand's history when it had stores all over the world, from Bombay to Johannesburg, Paris, and Rio de Janeiro. Each store carried a different handwriting and in turn each era brought about even more variations on their logo, so there was a lot for us to reference.'

One particular logo, hailing from the 1930s, caught his attention and called for a hand drawn calligraphic approach. Keen to instill a strong sense of craftsmanship in the letter forms, early versions of the new typeface were drawn by hand and then later scanned for digital refinement. Another key consideration for the new brand DNA was maintaining the house's historic 'Britishness', chiefly achieved by reinventing the regal blue livery. 'We drew on the original house colours and branding from the early 1900's,' says Elizabeth Galton of the new packaging, 'which we reinvented with a modern, elegant and quintessentially British twist.'

The same approach was extended to the brand's sophisticated new fine jewellery portfolio and accompanying campaign (opens in new tab) - shot by the acclaimed British photographer Miles Aldridge. 'Miles' perfectly crafted work and "filmmaker-like" approach, captures glamorous women in luscious technicolour,' continues Galton. Speaking from New York, Aldridge explained his cinematic approach: 'It's a contemporary twist on the rarefied ambience of London's 1960s nightclub scene where seductive, arty, glamorous people rubbed shoulders with the underworld as they drank martinis, gave good pose and danced the night away.' The campaign unifies a transformative celebration of Mappin & Webb's story to date, with the past informing a bright future.