The Design Guild Marks for 2012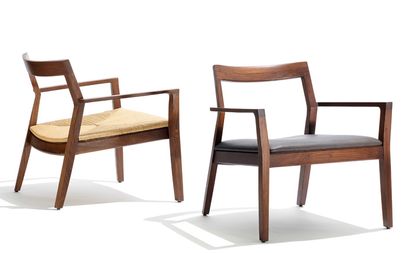 (Image credit: Marc Krusin for Knoll International)
There has been much hullabaloo about all things British lately, what with a certain sporting event about to kick off. And lest the nation's finest furniture designers think they are going to escape the celebrations, the prestigious Design Guild Marks (opens in new tab) for 2012 is here to set them straight.

The annual accolades were introduced by The Furniture Makers Company (opens in new tab) in 2008 to reward excellence in the British design of furniture in volume production. David Chipperfield (opens in new tab), Kay+Stemmer (opens in new tab), Simon Pengelly (opens in new tab) and Bethan Gray (opens in new tab) are among those recognised this year. Also championed was Marc Krusin's 'Krusin Table and Chair Collection' for Knoll International (opens in new tab) and PearsonLloyd's (opens in new tab) 'PLC chair' for Modus (opens in new tab).

Entries were, by all accounts, of a very high standard and a diverse and impressive lineup included outdoor furniture as well as domestic furniture, designs for the retail and the contract markets, as well as for healthcare, education and office sector.

The judging panel saw Wallpaper's own Editor-in-Chief Tony Chambers joined by Sheridan Coakley of SCP (opens in new tab), Sarah Simmonds from Scott Brownrigg (opens in new tab) and Stephan Oberwegner of Max Bentheim (opens in new tab), among others. (It's worth noting that the selection process was extremely rigourous, which should reassure those who have spotted that fellow judge Sebastian Conran picked up three awards for his company: all judges with an interest in an entry stood aside when that item was being discussed.)

The key design criterion for winning is essentially 'excellence', but particularly when it comes to the use of materials, manufacture and function. Durability, sustainability and original thinking are also hailed.

While the designers and manufacturers who made the grade are keeping the British end up admirably, it's also encouraging to see that the ancient and medieval Livery Companies of London (opens in new tab) are still - at least in the case of the Worshipful Company of Furniture Makers (opens in new tab) - playing an increasingly relevant and supportive role for their profession, enthusiastically waving the Union Jack all the while.
'Cricket' bench by Kay Stemmer for SCP