Table lamps with curve appeal
Desk, outdoor and table lamps with star qualities get their moment in the spotlight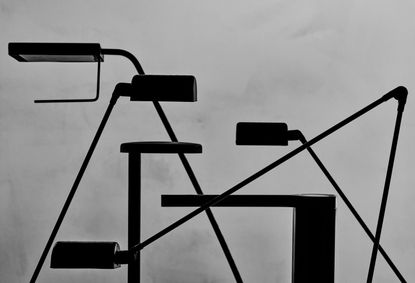 (Image credit: Leandro Farina)
If you are in the market for a new table lamp, look no further: here is our latest edit of lamps for all occasions. From clever and practical desk lamps to decorative lights and portable illuminations, these new lamps add a sparkle to every room of the house, from the living room (opens in new tab) to the office, and even the garden.
Table lamps with curves
A table lamp with a spherical glass shade resting on a minimalist transparent base, Rodolfo Dordoni's 'Buds 3' lamp for Foscarini is part of a larger collection that plays with size and proportion, with blown glass in milky tones of bamboo green, white and grey. The smallest of the collection 'Buds 3' is a perfectly flexible piece that works as a tabletop companion in a variety of settings.
foscarini.com (opens in new tab)
'Sometimes, some projects arise unexpectedly,' says designer Federico Peri. 'During a trip, a dinner, watching a movie, or even thinking about something else. In this case the idea was born by rearranging some samples of materials in the studio and, by overlapping an inverted glass and a metal tube, I was attracted by the simplicity and beauty of that combination.' The result of this experimentation is the 'Fontanella' lamp, the latest in his collaboration with FontanaArte: a table lamp that 'has lightness as the main feature,' the glass resembles the crystallized water of a fountain, hence its playful name.
fontanaarte.com (opens in new tab)
Omer Arbel's signature lighting aesthetic has proven to be adaptable to many types of illuminations. His organic spheres have been declined into many variations, from the most lavish chandeliers to essential desk lights, always pushing the boundaries of glass blowing and lighting manufacturing. Case in point, the '28t' table lamp is a piece born from an experimentation with manufacturing techniques. Explains the designer: 'instead of designing form itself, here the intent was to design a system of making that yields form: individual pendants result from a complex glass blowing technique whereby air pressure is intermittently introduced into and then removed from a glass matrix, which is intermittently heated and then rapidly cooled.' The result is a slightly distorted sphere featuring a composed collection of imploded inner shapes,' including the light source.
bocci.com (opens in new tab)
Multidisciplinary design studio Regular Company has collaborated with Ferm Living to create this lamp based on an essential geometry. 'The Meridian lamp is a decomposition of the archetypal table lamp,' they say. 'Its character comes from a mechanism that allows the lamp to slide through its base, and the light to travel on a predetermined path, creating different sculptural compositions.'
fermliving.com (opens in new tab)
A portable lantern to illuminate your dinner
A design originally created by Michael Anastassiades for the Four Seasons restaurant in New York, the lamp was then developed in collaboration with Flos to bring a piece of that legendary dining to every home. A portable and rechargeable lamp (opens in new tab), the design turns traditional lamp architecture upside down with a glass base inspired by ancient Greek columns diffusing light through a ridged surface, and a minimalist top cover in metal.
Flexible desk lamps for a bright office space
Designed by Stanislaw Czarnocki for Apartment no. 50 at Le Courbusier's 'Cité Radieuse' in Marseille. 'While the building's flat roof caters to social needs, it lacks built-in lighting, which is where the Phare lamp provides a remedy: lightweight and simple to transport, the design and materials take its inspiration from Cité Radieuse's roof construction,' explains the designer. The table lamp is based on a fully recyclable design, made of aluminium, it is durable and light, flexible, portable and rechargeable.
menuspace.com (opens in new tab)
Carl Hansen & Søn's 'MO310' table lamp was designed by Mads Odgård and it is part of a series including floor, ceiling as well as table lamps. The design is based on the most essential elements, and it is the result of extensive research into light technology and the ways light affects well-being.
carlhansen.com (opens in new tab)
Designer Dirk Winkel describes his 'W154 Pal' lamp as 'the essence of modern task lighting'. The desk lamp's engineered, sophisticated construction is focused on creating high-quality light in a space, while keeping forms pure.
wastberg.com (opens in new tab)
Based on the purest geometry, Artemide's 'O' lamp is part of a collection including a table lamp and suspended version. Its design was conceived by Elemental as a simple object that, when not illuminated, would frame nature and connect people with their surroundings. The essential lamp creates a comfortable light that can be adjusted thanks to a series of sensors and through a specially-developed app, 'to ensure a focused operation, thus preventing waste and respecting the circadian cycles of all animal and plant species.'
artemide.com (opens in new tab)
A flexible office lamp, Tobias Grau's 'John' lamp features the company's Color Tune technology, offering flexibility and personalisation to adjust brightness, intensity and warmth. Double tapping on the switch allows users to choose between four different levels of light color and intensity, making this lamp perfect as a desk light, bedside reading lamp, and everything in between.
tobiasgrau.com (opens in new tab)
GamFratesi's design for Louis Poulsen features a geometric silhouette based on an essential brass rod secured on a marble base, and with an asymmetric shade perching out. A design studied to provide practical, glare-free downward light, the angle of the trapeze-shaped shade can also be adjusted to optimize light distribution.
louispoulsen.com (opens in new tab)
Nika Zupanc looked at flamingos for her eponymous table lamp. The humorous silhouette is balanced by the rigorous lines manufactured in shiny brass, and the light's intensity and direction can be adjusted thanks to four panels on the lamp's head. 'Flamingo is all about brightening up even the coldest of corners,' says the designer. 'Misjudgements, misguidance and misfits, they all disappear under the melting embrace of light.'
ghidini1961.com (opens in new tab)
Baxter's 'Blade' lamp features an essential form defined by a single brass rod forming a narrow angle from the marble base to the minimal shade. Available in a series of expressive metal finishes, the lamp is a perfect addition to a sleek desk space.
baxter.it (opens in new tab)
Tommaso Cimini's 'Dauphine' and its smaller interpretation, 'Dauphinette' for Lumina Italia, is a classic, slightly nostalgic desk lamp with contemporary technology, featuring an articulated arm and pivoting diffuser, and available in six primary hues.
lumina.it (opens in new tab)
Vincent Van Duysen's latest light for Flos comes in the shape of a practical and minimal take on the traditional task light. Available in a subtle chromatic palette, it features a wide beam and a 355 degrees rotating stem so that light can reach every work surface. A compact desk lamp that also doubles as a charger for tech accessories, it's an office light also perfect for the home.
flos.com (opens in new tab)
A minimalist desk lamp by Paris-based designer Léonard Kadid, 'Beacon' is an essentially-composed lamp featuring a cylindrical base with a rotating light source.
leonardkadid.com (opens in new tab)
A trio of lights for indoor and outdoor
Another lighting design inspired by the animal world, Nicholai Wiig Hansen's 'Night Owl' for Fritz Hansen curiously and minimally recreates the night bird's silhouette with a thick base and generous shade. The lamp was born from 'a desire to create a uniquely Nordic wash of light; warm, cosy and informal.'
fritzhansen.com (opens in new tab)
The latest addition to a collection of table lamps by Santa & Cole inspired by basket construction, Miguel Milá's 'Cestita Alubat' is a portable lamp suitable for indoor and outdoor use.
santacole.com (opens in new tab)
The 'Chispa' lamp by Joan Gaspar for Marset takes its name from the spanish word for 'spark', and it is a portable outdoor lantern whose design is inspired by classic garage lamps, reinterpreted with a contemporary spin. Featuring a protective grate that revolves around the light source, the lamp also comes with an accessory to hang it for a different lighting perspective.
marset.com (opens in new tab)
Fossil-like decorative lights
Jesper Eriksson's 'Fossilised' series is born from the designer's long-standing interest in reinterpreting coal, resulting in rock-like formations that serve as the base for his lighting pieces.
jesper-eriksson.com (opens in new tab)
Rosa Bertoli was born in Udine, Italy, and now lives in London. Since 2014, she has been the Design Editor of Wallpaper*, where she oversees design content for the print and online editions, as well as special editorial projects. Through her role at Wallpaper*, she has written extensively about all areas of design. Rosa has been speaker and moderator for various design talks and conferences including London Craft Week, Maison & Objet, The Italian Cultural Institute (London), Clippings, Zaha Hadid Design, Kartell and Frieze Art Fair. Rosa has been on judging panels for the Chart Architecture Award, the Dutch Design Awards and the DesignGuild Marks. She has written for numerous English and Italian language publications, and worked as a content and communication consultant for fashion and design brands.
With contributions from