Stefan Diez's lighting design is a 'toolbox of possibilities'
The new 'Plusminus' lighting collection by Stefan Diez for Vibia shifts the relationship between the light and the room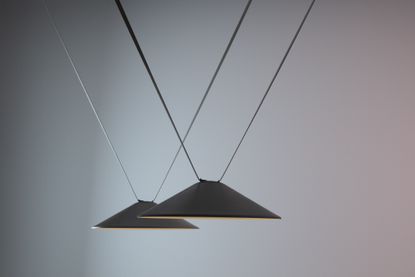 (Image credit: Stefan Diez / Vibia)
German designer Stefan Diez and Spanish lighting (opens in new tab) company Vibia present 'Plusminus', an innovative and versatile lighting collection that wants to 'emancipate light from architecture'. In 2018, when the project first began, Diez had the idea to create 'a few light sources and a ribbon as a connector'. After three years of extensive research and testing, this has been achieved but to a degree that neither designer nor brand had imagined.
'Plusminus' lighting collection by Stefan Diez for Vibia
'Plusminus' is a 'toolbox of possibilities', and an endlessly customisable lighting collection for both private and commercial clients. The connecting force of the collection is the fabric belt, which is essentially an electrical band that can link various luminaires in one or multiple rooms. The adaptability of the one band can allow, for example, pendants to be suspended at different heights, lights to be connected on the band and looped over a metal bar to hang over a long table, or used as a vertical space divider with lamps in a way that seems to defy gravity.
Elegant and streamlined, the belt avoids the clutter of cables and the complex installation that might require opening walls. It was also one of the most challenging pieces of the 'Plusminus' project. Following the initial idea of a ribbon, detailed research was undertaken by the designer and the Vibia technical team, including the seeking of hand-woven samples made by textile designers and reviewing different patterns to cover the wires and electrical threads.
The result offers an exciting new potential in lighting design. One band offers 30m of connective possibilities and comes in four colours: rust, grey, black and olive green. The luminaires – which include six different models: sphere, semisphere, cone, spotlight, linear diffuser and linear low UGR – are easily detached and reattached by simple anchors and fittings.
'Plusminus' will be available in showrooms later this autumn, as well as through a website specially developed for the project that allows customers to discover the collection and configure their bespoke system. The system is designed to be accessible to individual consumers as well as larger commercial clients, and once the layout of the lighting has been determined, the shipment will include specific instructions for the particular installation.
'Plusminus' is an 'endlessly open project', says Diez. 'You can illuminate a whole office in a day without having to consider it during construction.'
INFORMATION
vibia.com (opens in new tab)
Blaire Dessent is a freelance writer, editor and copywriter specialising in contemporary design, craft, art and travel. She works as the managing editor for TL magazine, a biannual, French/English art and design publication. In 2020 she was an editor and contributor to Imaginings by Kiki van Eijk, published by nai010. She is also the co-owner of The Alameda Shop, a creative lifestyle shop in Mallorca that works with contemporary artists and makers.