High design: how Osmose Design prioritises process in interiors
Osmose counts Stumptown Coffee Roasters and House Spirits Distillery among its projects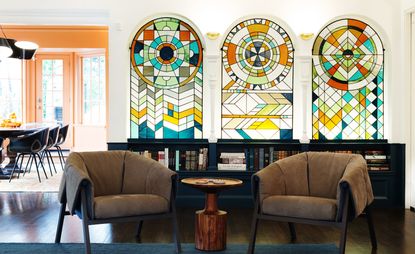 (Image credit: Osmose)
Andee Hess of Osmose Design is very much driven by the opportunity to take on projects different from what she's tackled before. Since founding Osmose in 2007, her projects have ranged from the interior of expanding hipster mecca Stumptown Coffee Roasters to a tech company office where the chief aesthetic influence was Mario Bros.

Add to that an elegant portfolio of residential interiors–and it's no wonder that the founder of Stumptown himself is next in line for one of her inspired home designs.

Hess has a background in interior design and her first introduction to the field was welding. Her attention to detail shines through in the stained glass windows she collaborated with artist and musician Danny Seim to make, adding a Tudor dimension to a Portland cottage. In another residence, Hess designed a wine cellar with mirrored ceiling and floor, creating what she calls a 'space odyssey' effect. (The illusion of infinite bottles is a wine lover's dream.)

In a similar spirit, her stylish tasting room for Portland's House Spirits Distillery is sure to whet any design lover's palate. A combination of dark MDF wood, bright Douglas fir and aluminum thoughtfully delineates the space without cluttering it.

Hess prioritises the 'soul' of a project and the intimacy of being present through the start-to-finish process. 'I really treasure being a small boutique firm,' she adds, keeping her team small even as she thinks big.
INFORMATION
For more information, visit the Osmose Design website