Virtual concept house imagines Black domestic experiences in 2025
A group of forward-thinking creatives is mining the richness of the past and present in order to create a vision for a Black future through interior design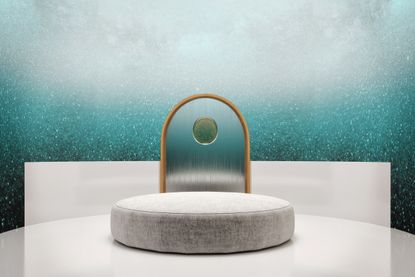 (Image credit: press)
The Obsidian Experience, a new virtual interior design concept set in Oakland in the year 2025, is a large-scale collaborative effort by 23 members of the Black Artists + Designers Guild (BADG), and two younger, rising talents of the design world. Each participant was tasked with creating a room or design element within the house, but each creative decision served a much larger purpose.

'We need to be creating space that provides wellness and safety for the Black body,' says artist, activist, and founder of BADG, Malene Barnett. 'Our role was to focus on the Black family, to figure out what is it that we need when it comes to space, and how could we use design as a tool, not only to create spaces but to empower the community to recognise the rights that we have to space.'
In order to create a home that would best serve a broad cross-section of Black families, the guild interviewed a variety of them and let the answers guide their work. 'We started to discover the importance of outdoor space (opens in new tab), spaces to make products at home, the importance of a space to do hair (opens in new tab), because that has always been an important part to us culturally,' Barnett says.

The pandemic (opens in new tab)-related stresses of the past year are also addressed elegantly throughout Obsidian, in the form of spaces like Cheryl R Riley's Sanctuary, a futuristic meditative area, and The Moon House by Me and General Design, a separate guest house that would meet all requirements for a socially distanced (opens in new tab) stay.
Barnett's own contribution is the Legacy Wall, an installation that can be seen from various spots in the house and honours Black lineages. 'I'm not an interior designer, so I knew that I didn't want to create "room space", but rather create "space" for us to continue to stay connected to the ancestors,' she explains. 'That's how I thought about the Legacy Wall, thinking about our family archives, and the limited documentation that many of us have. How do we change that for generations to come?'

While the Obsidian Experience is entirely virtual, a full slate of programming throughout February ensures that the project maintains its spirit of community. Featured are conversations with the BADG's creators, explorations of the house's interior design, and more opportunities to consider the possibilities that can emerge when Black families can take up space.
INFORMATION
badguild.info/obsidian-project (opens in new tab)