Never sleep: the winner of the 2017 Rijksstudio Award is keeping our eyes wide open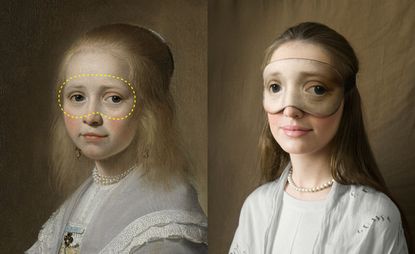 (Image credit: Limonov scooped)
This year's Rijksstudio Award – a public competition that challenges contestants to use the Rijksmuseum's collection to inspire new works – attracted an array of quirky entries. For the first time, the prize-giving ceremony, held at the Amsterdam museum on 21 April, included a work voted for by the public online.

In a truly international event – the 10 finalists hail from nine countries – the judges' first prize went to Belarusian designer Lesha Limonov. His 'Never Sleep', a series of sleeping masks printed with eyes from paintings in the Rijksmuseum collection, was inspired by Dutch painter Johannes Cornelisz Verspronck's 1641 Portrait of a Girl Dressed in Blue. 'When night begins and the museum halls empty, the art masterpieces stay awake and look from the darkness,' says the designer.

The public's prize-winning project, by American architects Francine Leclercq and Ali Soltani, pays tribute to Dutch Delftware with a simultaneous nod to Marcel Duchamp's critical views on 'retinal art' (art that is solely visual). 'Delft Blue Eyes & Nails' is a set of non-prescriptive contact lenses printed with a 17th century Delft Blue pattern, and set of matching nail art decals.

Also infusing art into daily life, the first runners-up, Spaniards Esther Pi and Timo Waag, rejuvenate engravings and etchings classics by masters from Rembrandt to Dürer to attract new audience in an alluring way with their 'Eden' condoms packaged in images of Adam and Eve; while the second runner-up, British designer Jessie Hall, created knotty knitted towering cosies inspired by Karl Blossfeldt's 1928 Plantstudie.
INFORMATION
For more information, visit the Rijksstudio Award website (opens in new tab)
Yoko Choy is the China editor at Wallpaper* magazine, where she has contributed for over a decade. Her work has also been featured in numerous Chinese and international publications. As a creative and communications consultant, Yoko has worked with renowned institutions such as Art Basel and Beijing Design Week, as well as brands such as Hermès and Assouline. With dual bases in Hong Kong and Amsterdam, Yoko is an active participant in design awards judging panels and conferences, where she shares her mission of promoting cross-cultural exchange and translating insights from both the Eastern and Western worlds into a common creative language. Yoko is currently working on several exciting projects, including a sustainable lifestyle concept and a book on Chinese contemporary design.