Magic mats: José Lévy transforms Japanese tatami for Daiken at Maison et Objet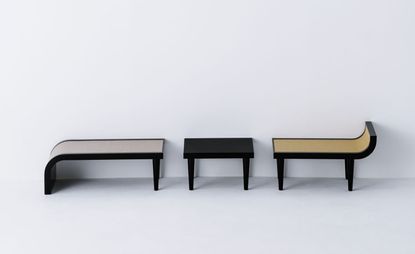 (Image credit: press)
In the wide spectrum of innovative materials available to designers, it's the challenging ones that create the most intrigue. For a new cross-cultural collaboration, French designer José Lévy has taken traditional rice straw tatami and created a new selection of furniture for Japanese manufacturers Daiken.

Launched at Maison et Objet, the sensual collection is titled 'Moving Tatamis' and embraces the material's heritage as traditional Japanese flooring. Channelling the washitsu style, the range of seating, side tables and storage merges organic hues and a panelled aesthetic.

Being the first ever furniture collection to be made out of the material meant some tweaking. The structures were woven from traditional Japanese washi paper instead of straw to solidify and add resistance to the material, while retaining the desirable lightweight quality.

Levy's strong connection to Japan and its materials was fostered from a young age. 'It was my first experience of anything exotic of some other place, of the "unusual yet beautiful",' he says. 'All these objects fascinated me. They were very important in my relationship with anything foreign, beautiful, dreams and distinction.' Not only do the soft curls that mark the edges of the table and bench reflect an Asian design sensibility, the additional materials are also reminiscent of the region. Precious woods, lacquer and light woods merge with tatami to create simple, warm furniture; contemporary minimalist silhouettes standing on slim short legs.

Following Maison et Objet, the 'Moving Tatamis' will be available to purchase from Paris' Joyce Gallery.
INFORMATION
For more information, visit Daiken's 'Moving Tatami' website