Finnish brand Iittala ventures beyond tableware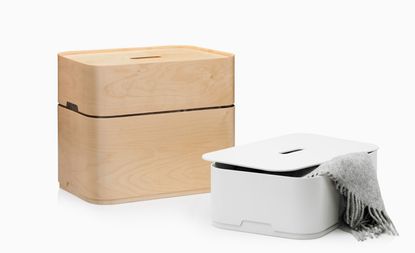 (Image credit: Press)
Since 2011, Finnish homeware company Iittala has been on a mission to expand. First came the appointment of Finnish designer Harri Koskinen (opens in new tab) as creative director, and then last year it released Sarjaton (opens in new tab), a collection of textured, colourful crockery that marked a departure from the classic glassware for which it is most famous. This September, the 150-year-old company is venturing beyond the tabletop into the home.

The new pieces, four of them in all, were debuted on a scorching day in June in Iittala's 'concept home' in central Helsinki. The venue was an ex-printing-press-turned-family-home, belonging to local stylist Johanna Brun. The aim was to see the small but perfectly formed collection in situ.

Artfully placed between Brun's Artek and vintage furniture was 'Vakka', a series of plywood storage boxes in different sizes by Helsinki-based Aalto+Aalto; 'Leimu', a hand-blown glass lamp with a concrete base by Norwegian designer Magnus Pettersen; and 'Meno', a felt bag by Koskinen. All three have a typically Scandinavian aesthetic and are made by Scandi designers using local materials - pre-requisites for Iittala.

The fourth product is an electrical adaptation of 'Lantern', Iittala's best selling glass candleholder originally designed by Koskinen in 1999. 'Electricity increases Lantern's usability. This lighting fixture can be placed in a range of environments, such as between shelves or in public spaces,' says Koskinen, who decided what the range would consist of and approached designers accordingly.

'Vakka was inspired by the plywood suitcases particularly popular in the Baltic countries,' explain Aalto+Aalto, a husband and wife team who opened a studio in Helsinki in 2010. It was their bicycle bags made from recycled sails for local company SavetheC that caught Koskinen's eye. In 2011, London-based Pettersen created a Concrete Desk Set which marked him out as a Norwegian one to watch. The new range arrives in stores in September.
Emma O'Kelly is a contributing editor at Wallpaper*. She joined the magazine on issue 4 as news editor and since since then has worked in full and part time roles across many editorial departments. She is a freelance journalist based in London and works for a range of titles from Condé Nast Traveller to The Telegraph. She is currently working on a book about Scandinavian sauna culture and is renovating a mid century house in the Italian Lakes.