Ettore Sottsass - Enamels, Vitra Design Museum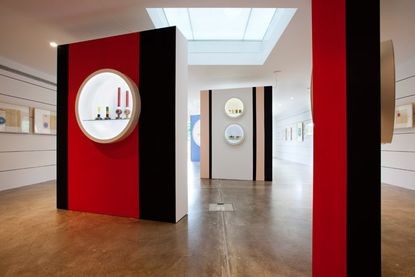 (Image credit: Bettina Matthiessen)
August is always a bit of tranquil month compared to the event-filled design happenings of April or September, so if you haven't already taken advantage of the calm before the ensuing fashion and design weeks, there is still time to catch a glimpse of a relatively unknown body of works in enamel by Ettore Sottsass, stationed in the new
Vitra Design Museum Gallery space in Weil am Rhein.
An additional exhibition space to the 1989 Frank Gehry-designed Vitra Design Museum, the new gallery will run small exhibitions dealing on contemporary or experimental topics. 'Enamels' was chosen to mark the opening partly because of its appeal as a somewhat niche module in Sottsass's oeuvre, and also because it acts as a clever accompaniment to the museum's current exhibition - 'Zoom. Italian Design and the Photography of Aldo and Marirosa Ballo'.
Sottsass initially created the enamel objects for the opening of Milan's Il Sestante gallery in 1958, where they were shown alongside the works of artist Arnaldo Pomodoro. He chose to work with traditional materials like enamel in the late 1950s, and his designs for the exhibition make up a relatively sizeable collection of around 25 plates and 37 vases. Curated by Fulvio and Napoleone Ferrari, the current exhibition also displays 37 related drawings.
Of course, it is argued that the enamel works may not be the designer's most career-defining pieces. Nevertheless, they point to a seminal part of the designer's period of intensive creativity in the late 1950s, and there is no doubt the elementary characteristics of Sottsass's creative approach are present and correct in the colourful cross-material techniques - seen in the high-contrast tones and archetypal shapes of the enamelled copper tondos and vases on display.

ADDRESS
Vitra Design Museum
Charles Eames Str. 1
79576 Weil am Rhein
Germany
Receive our daily digest of inspiration, escapism and design stories from around the world direct to your inbox