Pulp fiction: Domingos Tótora's recycled cardboard designs tell a Brazilian story
Domingos Tótora's recycled cardboard designs tell a Brazilian story at James Paris gallery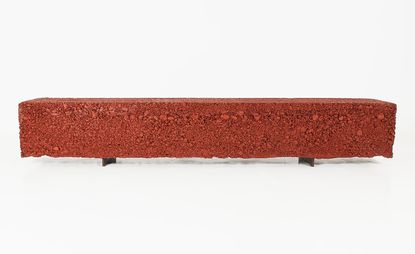 (Image credit: Domingos Tótora)
Surrounded by verdant mountains, the remote Brazilian region of Minas Gerais is a world away from the narrow Parisian streets in the Marais; yet the organic creations from Domingos Tótora seem perfectly suited to the white minimalist backdrop of gallery James Paris.

That the Brazilian designer achieves his striking, flawlessly-formed decorative objects exclusively from reclaimed cardboard enhances the contextual divide even further. Here, against the white-walled backdrop (conceived by DAS Studio), Tótora's elongated vessels, ridged discs and slanted stools could be alternately interpreted as primitive or contemporary - yet are also unquestionably artisanal.

Every piece begins the same way: the cardboard is broken down into small enough pieces to be turned into a pulp. Tótora and his studio team then sculpt the forms by hand, sometimes leaving the texture smooth, other times forming tactile, elaborately repeated reliefs. Like a lo-fi version of firing clay, the works bake in the sun before any last finishing touches. The collection on display reaffirms how such humble material can be coaxed into a variety of finessed surfaces.

The most unexpected of all is a 2.5 metre-long solid bench; its burnt umber hue and crackled, almost granular, appearance could hardly be traced back to a pile of discarded boxes. One of the discs consists of small squares embellished with a dimensional pattern. A striped motif is subtly integrated into the fluted vases.

If there is an arte povera element to the concept, it also represents a deeper desire towards refined, sustainable design. 'He puts it to use rather than to waste,' says Candice Fauchon, who runs James Paris with her partner Paul Viguier, seeking out the best in Brazilian modernism. Tótora's pieces are available as an open edition by special order, which makes sense given the endless supply of cardboard. 'It's an approach in perfect harmony with nature,' she adds. It's a satisfying thought that is reaffirmed by the faintly detectable earthy scent inherent to each piece.
INFORMATION
For more information, visit James Paris' website (opens in new tab)
ADDRESS
18-20, Rue de Thorigny
75003 Paris