Design Parade 7 at the Villa Noailles, Hyères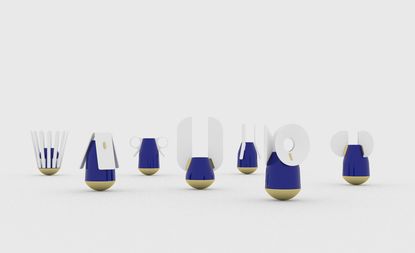 (Image credit: press)
Villa Noaille's (opens in new tab) annual Design Parade has become a significant stopover on the design circuit, helped by its South of France setting. Now in its seventh year, the three-day festival offers a strong programme of exhibitions, talks and workshops, with a line up of leading names ranging from architect Patrick Bouchain (opens in new tab) to French designer François Azambourg (opens in new tab), as well as a refreshing slew of young designers.

Set on a hilltop above the French coastal town of Hyères, the 1920s modernist pile, by celebrated French architect Robert Mallet-Stevens (opens in new tab), was constructed by eccentric patrons of the arts, Charles and Marie-Laure de Noailles (opens in new tab), and has played host to everyone from Salvador Dali (opens in new tab) to Jean Cocteau (opens in new tab) and Man Ray (opens in new tab). The villa and its manicured gardens became an arts centre in 2003, and it has remained a favourite destination for the creative cognoscenti.

Seeking out new talent is integral to the festival's existence and this year's programme is business as usual, with the '10 Designers' contest once again being full of names to watch, picked out by a judging panel comprising Paris-based designer Inga Sempé (opens in new tab), Galerie Kreo (opens in new tab) director Didier Krzentowski and Design Parade 6 winner Brynjar Sigurdarson (opens in new tab), among others.

Highlights among the designers work include a collection of shelving units by Fanny Dora, and some interesting alarm clocks by Marc Sarrazin and Sibylle Delclaux. And as with previous years, one of the prizes is a one-year research residency at Sèvres, Cité de la céramique (opens in new tab)- the results of which will be seen at next year's Design Parade. Last year's winners, Jean-Baptiste Fastrez and Brynjar Siguriarson have come up trumps with a dynamic series of accessories and furniture, which are also on display.

Other highlights at this year's festival include the 'Rugs Parade', a collection of rugs by designers including Fernando and Humberto Campana (opens in new tab) for Nodus (opens in new tab) and a colourful offering by Erwan and Ronan Bouroullec (opens in new tab). Of course, the permanent collection is always worth visiting, for the villa's influential former owners not only spent a lifetime supporting the arts, but were insatiable collectors, amassing furniture and art by the likes of Alberto Giacometti (opens in new tab), Max Ernst (opens in new tab) and Marcel Breuer (opens in new tab).

Happily for those who can't make the three-day fair, the Design Parade exhibitions will remain open until 30 September.
ADDRESS
Villa Noailles
Montée de Noailles
83 400 Hyères
France