Design Miami 2012 preview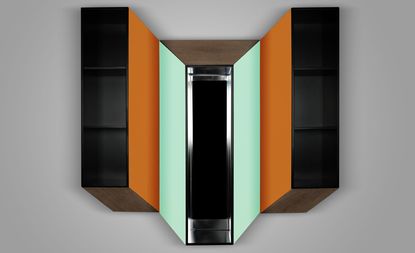 (Image credit: galeriebsl.com)
Galerie BSL (opens in new tab)
Among our picks of what to see at Design Miami this year is the stand of Paris' Galerie BSL, which is bringing along new works by David Adjaye, Noé Duchaufour-Lawrance, Taher Chemirik and Charles Kalpakian. The gallery describes the cabinets by Kalpakian (pictured), a French Lebanese designer, as 'functional paintings'.
Location: main fair at Design Miami
Design Miami (opens in new tab) is now back in rude health, after the inevitable late-noughties wobble. The shift to South Beach and closer ties to Art Basel/Miami (opens in new tab) have helped the revival. As has a much stronger showing from domestic galleries, further proof that the American design scene is well out of it's long stretch in the doldrums. And the exhibition organisers are determined to maintain the upward momentum.
This week's show will be held in a pop-up pavilion, designed by New York multi-disciplinary darlings Snarkitecture (opens in new tab), next to the Miami Beach Convention Centre. 'Drift', as the Pavilion has been called, is a striking cluster of inflatable tubes carefully lifted and arranged to create a walk in topographical model.
Snarkitecture are also appearing inside the pavilion. Chicago's Volume Gallery (opens in new tab) (see W*133) are showing new design pieces by the duo as part of the Design On/Site (opens in new tab) satellite show, alongside galleries such as Milan's Erastudio Apartment (opens in new tab) gallery, Tel Aviv's Design Space (opens in new tab) and Beirut's Carwan Gallery (opens in new tab), premiering new designs by Gaetano Pesce, India Mahdavi and Noam Dover and Michal Cederbaum, respectively.
The main fair is dominated by first rank design dealers from New York and Paris, amongst them Galerie Kreo (opens in new tab), which is showing new works from Pierre Charpin and Jean-Baptiste Fastrez.
Here's our selection of exhibitors who definitely deserve a visit during the fair and the new designs they will be premiering. Thinking and re-thinking 'making' and craft remain the key concerns for contemporary designers. And if there is a common theme to all the works we have highlighted here, it is this elevation and exploration of process.
ADDRESS
Meridian Avenue & 19th Street
Miami Beach