Design Days Dubai 2016: Fadi Sarieddine takes an architect's approach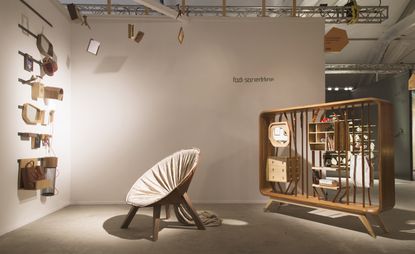 (Image credit: Fadi Sarieddine Design Studio)
Lebanese architect– and Wallpaper* 'Middle East Revealed' collaborator– Fadi Sarieddine has had his own design atelier in Dubai since 2013. In fact, it was his move to Dubai 12 years ago that was the catalyst for his multidisciplinary design approach.

'Many people come [to Dubai] to be transient,' says Sarieddine. As a result, most apartments look temporary, and different combinations of the same IKEA furniture fall short of inspiring.

'I looked around and didn't know how to furnish my house,' Sarieddine says. So he took matters into his own hands and began to design furniture. In 2008, his concrete chair Dubai Syndrome won the Traffic Design Competition and was later shown at Salone del Mobile in Milan.

His practice had officially extended beyond designing for friends, and he opened the Fadi Sarieddine Design Studio with partner Lilas Bitar.

However, Sarieddine's architecture background is still very much a part of his design process. 'The way architects are educated we think differently,' he explains, 'we are taught to take a broad approach… to be systematic in thinking.' The architect cannot ignore that the ultimate function of his or her design is to interact with people. And Sarieddine's commitment to work that is 'practical, but tells a story' was very evident at Design Days Dubai 2016.

Sarieddine showed three designs at the fair. The Division Belt (a play on Pink Floyd's Division Bell) is an imaginative shelving alternative featuring leather belts by Dubai-based artisans MadebyNative. Stone and wooden modules are suspended along the taut belts to hold books, flowers and trinkets. The relatively open frame can also function as a space divider.

In a similar vein, HangOn (by Bitar) is a customisable home for keys, phones, wallets and all the other accessories of modern life. A set of smooth wooden elements like a mirror, mailbox and vase can be arranged in infinite ways along the same horizontal bar.

Lastly, the Swaddle chair is a 'human cocoon' which Sarieddine describes as 'the star of the show.' A cone-shaped leather chair (upholstered by MadebyNative) engulfs the sitter in an attached cotton quilt. Should the sitter prefer to lie down, the excess fabric can also be pooled down the legs of the chair for a tent effect. The no frills approach is to pull the fabric through the back of the seat. Voila, a tail.

Having lived in Dubai for over a decade, Sarieddine is the perfect witness to the energy happening in the art and design scene. He says it's happening on two fronts: more locals are going into artistic fields, and more expats are coming to practice. Whereas expats once came for the oil and engineering industries, the city has increasingly become a 'destination' for creatives– and this is highly encouraging.

After making over the incubator office that Fadi Sarieddine Design Studio started out of, Sarieddine has been fielding commissions for 'relaxed' corporate interiors.

In his home and his work, Sarieddine designs in order to have an alternative from the status quo– and that's a very good thing.