'De Ida y Vuelta': a new show in Mexico City brings together the work of 60 young designers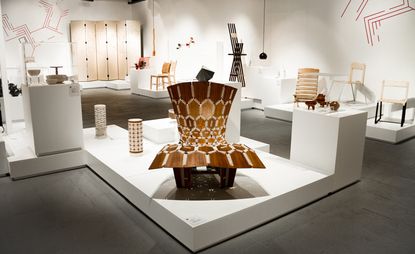 (Image credit: Jose Manuel Espinola)
Tucked away in the colourful Centro Nacional de las Artes in Mexico City, a small and neatly curated show sheds light on a thriving contemporary design scene. De Ida y Vuelta (opens in new tab) (which loosely translates as 'Back and Forth') consists of 250 prototypes and finished objects by 60 Mexican designers, most of who have only been in operation since 2010.

'The premise of the show is that ideas, skills and traditions go back and forth between designers and craftspeople,' explains Mexican curator Ana Elena Mallet (opens in new tab). New works by established names such as Emiliano Godoy, Hector Esrawe, Ariel Rojo and Oscar Hagerman are present, but Mallet has purposefully sought out young designers working alone and in collectives.

Bi Yuu is a young brand created by textile designer Marisol Centeno, who works with artisans in Oaxaca to make handcrafted rugs. Also in the younger crew are collectives such as Rehilete, Pentagono and 1050o (degrees), which have reinterpreted traditional wooden stools, chairs and ceramics in new ways.

'Most exhibitors are industrial designers (with an average age of 30) who are working with craftspeople. They are conscious of their context, and are reinterpreting their Mexican roots in new ways,' says Mallet. The majority are based in Mexico but Mallet has cast her net wide to include a handful of expats creating cross-collaborations back home. Among them are London-based Valentina Gonzalez Wohlers and Jose de la O, who after graduating from the Eindhoven Design Academy, headed to Yucatan to reinterpret the wooden rocking chairs specific to the region.

A highlight is the hefty, hand-carved cookware by Julio Martinez Barnetche. Bowls pot and trivets are carved from the black volcanic rock ubiquitous to Mexico, while the vasija fermetadora is a giant vessel in which to store and ferment agave sap in order to make pulque, the local hooch.
Emma O'Kelly is a contributing editor at Wallpaper*. She joined the magazine on issue 4 as news editor and since since then has worked in full and part time roles across many editorial departments. She is a freelance journalist based in London and works for a range of titles from Condé Nast Traveller to The Telegraph. She is currently working on a book about Scandinavian sauna culture and is renovating a mid century house in the Italian Lakes.