Copenhagen Ceramics gallery opens in Denmark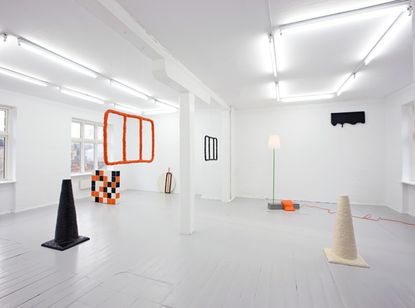 (Image credit: press)
Danish ceramics may enjoy a high international profile, yet one group of local ceramicists has seen the need to raise their presence on home turf. Copenhagen Ceramics (opens in new tab) is an ambitious new project that gives a close-up look at the changing face of the contemporary Danish ceramics scene with a mixed programme of both young and established names.
Founders Bente Skjøttgaard, Steen Ipsen (opens in new tab) and Martin Bodilsen Kaldahl have been crossing paths on the Danish ceramics circuit for a long time. 'We kept saying to each other that someone should do something,' says Kaldahl. 'But we thought, let's do it in a different way. Instead of thinking of a long-term gallery, we conceived it as a project with 10 exhibitions to start with.'
Kaldahl and co belong to a tight-knit group of ceramicists, whose community spirit helped bring the project to fruition. Their driving force has been a desire for ceramics to be seen in the flesh rather than in just photographs, so that people can see the textural quality of the works in minute detail.
The founders are reluctant to predict the gallery space's future past its 12-month show programme - which this year includes the likes of Bodil Manz, Turi Heisselberg Pedersen and Michael Geertse (opens in new tab). This rather organic approach means there is ambiguity as to whether Copenhagen Ceramics will remain a 'pop-up' or turn into a permanent gallery space. As such, the website (opens in new tab) is a comprehensive platform which visitors can use to view future exhibition artists' work and keep abreast with the project's developments.
Housed on the second floor of an old factory building in the Frederiksberg district, the gallery launches with an exhibition by Detroit-based but Denmark-born
Anders Ruhwald (opens in new tab), whose show is entitled 'You will see'. Says Kaldahl of the gallery's choice to make Ruhwald its debut artist, 'Ruhwald's work marks a change and he has a way of thinking that is an inspiration for young people right now. He is very aware of Danish tradition but also at the same time very experimental.'
'Cuts and interventions' exhibition

Following the Anders Ruhwald exhibition, a showcase of work from Bodil Manz and Bente Skjøttgaard will run from 2 to 25 February. Pictured here is 'White turquoise cloud no 1003' by Bente Skjøttgaard, 2010
'Cuts and interventions' exhibition

'Ripples' by Bodil Manz, 2012
'Cuts and interventions' exhibition

'Homage to Vilhelm Lundstrøm' by Bodil Manz, 2012
'Geometrical Evolution' exhibition

Next up will be a show of work by Karen Bennicke and Steen Ipsen, which runs from 1 to 24 March. Pictured here is 'Yellow Turbulence' by Karen Bennicke, 2007
'Geometrical Evolution' exhibition

'Green Form' by Karen Bennicke, 2008
'Geometrical Evolution' exhibition

'Snow-White in Wine' by Steen Ipsen, 2009
'Geometrical Evolution' exhibition

'Tied-Up' by Steen Ipsen
'My Garden' exhibition

Turi Heisselberg Pedersen gets centre stage from 29 March to 21 April. Pictured here is 'Baluster vases'
'My Garden' exhibition

'Vases' by Turi Heisselberg Pedersen
The Inhabitants exhibition

A group show by The Inhabitants - comprising Christin Johansson, Kristine Tillge Lund, Louise Birch, Mikael Jackson, Ole Vesterlund and Signe Schjøth - runs from 26 April to 19 May. Pictured here is 'Untitled' by Mikael Jackson, 2010
'The Inhabitants' exhibition

'Battle of Evermore' by Mikael Jackson, 2010
'The Inhabitants' exhibition

'Ohh La La Majolica' by Michael Geertsen and Peder Rasmussen runs from 24 May to 16 June

Pictured here is 'Yellow Standing Object' by Michael Geertsen, 2011
'The Inhabitants' exhibition

'Green Standing Object' by Michael Geertsen, 2011
'Landscape with events' exhibition

Gitte Jungersen and Louise Hindsgavl will have a joint show from 30 August to 22 September

Pictured here is 'Place to be Lost #5' by Gitte Jungersen, 2010
'Landscape with events' exhibition

'Maintenance' by Louise Hindsgavl, 2011
'Landscape with events' exhibition

'Mom's in the Kitcen' by Louise Hindsgavl, 2011
Martin Bodilsen Kaldahl exhibition

A showcase of Martin Bodilsen Kaldahl's work runs from 27 September to 20 October

Pictured here is 'Branchobject 24 - Starshot Implosion 1' by Martin Bodilsen Kaldahl, 2009
Martin Bodilsen Kaldahl exhibition

'Sweep & Nurbs Condition 1 - Three Strings and a Cut', 2009
'Folkloristic elitism' exhibition

Marianne Nielsen and Anne Tophøj will have a joint show from 25 October to 17 November. Pictured here is 'Feather', 2010, object for the wall, by Marianne Nielsen
'Folkloristic elitism' exhibition

'Knittings, 2008', objects for the wall by Marianne Nielsen
ADDRESS
Smallegade 46, 2. sal tv

2000 Frederiksberg
VIEW GOOGLE MAPS (opens in new tab)