An educational and culturally significant retail concept opens in Milan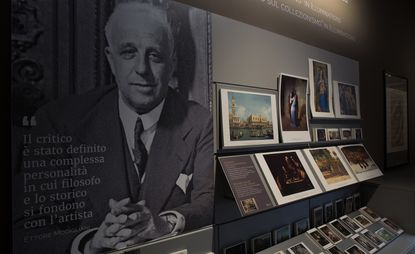 (Image credit: TBC)
Milan's Pinacoteca di Brera has unveiled a new retail concept, 'Bottega Brera', which aims to elevate the shop into an expression of the museum's identity and collections.

All the items on sale – from books to postcards to design objects - are available 'only in Brera', reinforcing the idea that they are deeply rooted in the museum's and the neighbourhood's cultural heritage.

Exclusive items available in store include three 'Rosa di Brera' scents created by home fragrance brand CULTI, inspired by the Brera rose cultivated in the Pinacoteca's botanical garden; a plate by Fornasetti featuring a unique print and children's books by Bruno Munari. A limited edition Trussardi scarf is currently in the works.
The 86 sq m area features warm grey walls in a shade that echoes some of the rooms in the Pinacoteca, whilst at eye-level, black and white portraits give the shop a personable aesthetic. The images portray the icons of the museum's history, along with their most famous quotes, such as artist and former Brera Academy student, Piero Fornasetti, and Munari, who created the first children's educational workshop at Brera.

James Bradburne, director of the Pinacoteca, says 'In the 21st century, the museum shop - if designed with learning in mind - is a necessary and valuable part of a museum's educational infrastructure. The museum is an informal learning environment par excellence, but where can we put the skills we learn to use? Where can we make a choice, and use our newly won skills? In the shop.'

'The goal of the shop is to become a model for Milan and Italy, and to demonstrate that a shop should be seen as a fundamental expression of Brera's mission and narrative,' he continues.

The store also stocks books and other paraphernalia from the Pinacoteca's partner institutions - the Orto Botanico di Brera, The Astronomical Observatory of Brera, the Istituto Lombardo, the Archivio Storico Ricordi and the National Braidense Library.

Soon, it will also serve as a showcase for a selection of works by the students of the neighbouring Brera Academy of Art.
INFORMATION
For more information, visit the Pinacoteca di Brera website
ADDRESS
Bottega Brera
Via Brera 28
20121
Milano