Andreu World chair competition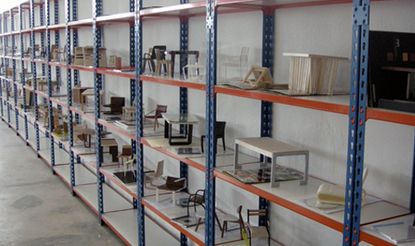 (Image credit: TBC)
The Spanish design company, Andreu World, knows a thing or two about chairs. They've been making them for 51 years and won our coveted 'Best Dining Chair' prize for 'Smile'' at this year's Wallpaper* Design Awards. Both these attributes mean they're perfectly seated to host one of the world's biggest chair competitions and this year we were honoured to be invited onto the jury.
This was their eighth international chair competition, hosted to coincide with Habitat Valencia, Spain's biggest design fair. The very notion of a chair competition seems a little strange and to be honest we weren't very sure what to expect. How many would there be? Do you get to sit on each of them to judge their function too or is it purely based on the look?
Together with fellow judge and designer Piergiorgio Cazzaniga, we were chauffered from the centre of Valencia out of town, through the industrial suburbs, past the airport to a little oasis of greenery – a former school, which is now Andreu World's head office and showroom. After a brief tour of the brand's collection, presumably to accustom our eyes to the company's design ethos by way of a warm-up, we were taken to the basement and introduced to the 300-odd entries.
Here we were joined by Melchor Andreu, the company's Vice President and another judge. Melchor explained that the remaining two judges were stranded on a train at Tarragona so would be joining us later but that the process should start given the sheer number we had to get through. He also told us the 'rules': that the predominant material should be wood, that the chair (or table as it turned out) should be viable for mass production in line with Andreu World's ethos taking into account production methods and costs.
So how do you judge a chair? Well first thing's first they were models not actual chairs, which made the whole thing a bit easier, if slightly less fair maybe because obviously testing them wasn't an option. We were handed five post it notes each to stick next to the ones that initially caught our eye and the sum of these were taken to a table to be discussed at length. Everything was anonymous to prevent any latent or intended bias.
What was remarkable about the process was how relatively easy it was to discount the majority – testament not to our skill as much as to the difficulty inherent in creating a new chair design. So many were very derivative to the point of pure plagiarism (as benefit of the doubt, we assumed the designers might not have had such an extensive knowledge of chairs as we did and likenesses were merely accidental). The best ones stood out because they didn't look like anything else but showed a masterful handling of references, contemporary and historic, or interesting use of materials, or unusual, but viable, concepts.
With our shortlist on the table, the remaining two judges arrived, Spanish graphic designer Paty Nunez and Jordi Montana, Director of Design Management at Esade in Barcelona. Thankfully they agreed with our initial selection and so the debate began – a drawn out process of elimination, discussing the merits and faults of each model in turn. It was an exercise in diplomacy as well as taste – it's tempting to shout down someone else's opinion that might not be in line with your own, but the second thing that really stuck out from the experience was how relatively easy it was to find a compromise between five opinions that differed wildly to begin with.
Relatively quickly (six hours later) we were standing in front of our favourite four designs. And suddenly they fell into a neat order. Arguments over, we sat and discussed what we would say the following day at the awards ceremony – a verification of the judging process we'd just been through. And what of the winners? They each displayed the attributes we were asked to look out for but more than merely fulfilling criteria they had a design sensibility that was lacking in so many of the others. The winner would be awarded 4000 euros and the runner-up 2000, not enough to start independent production but, together with the prestige, a handy little boost to any aspirant designer.
Paty asked whether we thought the designs we'd chosen, which at this stage were still anonymous, were made by a man or a women, which threw up an interesting discussion about gender and design and whether it was possible to spot inherently male or female ways of thinking. Without convincingly being able to articulate why, we felt the winner was male and the runner-up female.
The chair occupies a strangely hallowed place in the design world, partly by dint of their functional requirements but also because all the greatest designers have produced at least one chair that is held up as the incarnation of their style and skill. It's unlikely we discovered another Eames or Ponti in the Andreu World basement but trailing though the rows of models certainly served to highlight quite what a feat of design a truly innovative chair is.
Mary Cleary is the Beauty & Grooming Editor of Wallpaper*. Having been with the brand since 2017, she became an editor in February 2020 with the launch of the brand's new beauty & grooming channel. Her work seeks to offer a new perspective on beauty, focusing on the pioneering personalities, product designs, and transformative trends within the industry.