Zucchetti's design collaborations offer innovation on tap
Italian bathroom specialist Zucchetti forges contemporary design excellence through its creative collaborations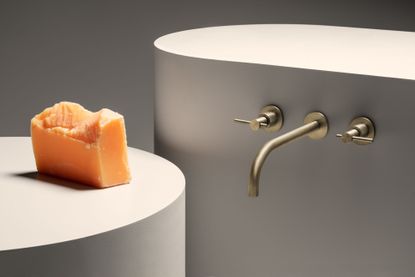 (Image credit: DSL Studio)
In partnership with Zucchetti
When bathroom expert Zucchetti and its complementary brand Kos presented their dynamic installation Ways of Water at Milan Design Week 2023, it was celebrated for its expression of poetry and fluidity. Inviting an experience that considered the preciousness of water, Ways of Water also offered valuable insight into Zucchetti's ways of working: the engineered choreography of water as a game of transparencies, lights, reflections, materials, depth and lightness, the conception of sculptural compositions that create direction for a fluid, natural element, to follow infinite paths and shapes.
For more than 90 years Zucchetti, the Italian bathroom specialist, has conveyed these movements with precision, seriousness and elegance, responding to the always-changing needs of contemporary living and the different uses of water with a balanced and defined approach. Kos, meanwhile, examines the cultural, ritual and dreamlike aspects pertaining to a holistic experience of wellbeing offered by water.
From its roots as a small foundry set up in 1929 in Valduggia, Piedmont, by Alfredo Zucchetti, the brand is now led by the third generation of the family. Design solidity, technical know-how and innovation remaining as the company's founding pillars.
Zucchetti's design excellence for the contemporary bathroom
With the bathroom environment undergoing a formal, spatial and cultural shift in recent years, Zucchetti's products connect to contemporary lifestyles via eclectic collections that are the ideal combination of technical and aesthetic values.
Zucchetti creates products that are not just functional, but real elements of design. In doing so, it collaborates with some of the most interesting talents in the field, among them Matteo Thun and Antonio Rodriguez, Alberto and Francesco Meda, David Lopez Quincoces and Ludovica+Roberto Palomba. Zucchetti achieves form, function and design excellence through constant experimentation in new products, shapes, technologies and materials.
Hoop
Intuitive, simple and stylistically neutral, Hoop is a button shower system designed by Matteo Thun and Antonio Rodriguez for Zucchetti. Combining the comfort of a thermostatic mixer with a new, versatile aesthetic, its clean and linear shapes guide the button system for easy, elegant use. With a simple gesture it is possible to open or close the Hoop system's water jets – even simultaneously – by selecting the corresponding outlet (hand shower, shower head, body jets or spout). Water temperature is easily set too, and controlled with a knob, remaining stable during the time of use.
The new button system is a sustainable and environmentally friendly solution, optimal in terms of both water and energy savings. Available in all finishes, Hoop has been designed to be combined with any of Zucchetti's collections.
Helm
A Zucchetti icon, Helm, designed by Lopez Quincoces, takes the classic archetype of the classic, cross-handle tap and reimagines it as cylindrical volumes that have been deconstructed then reconstructed. 'I start from complex ideas,' explains Quincoces, 'create a synthesis and then find a style that will stand the test of time and circumvent trends.'
This approach led to the first line of entirely-stainless-steel taps launched by Zucchetti, a versatile series that adapts to multiple interior spaces. Finishes include brushed stainless steel, gold, British gold, copper, total black and chocolate.
Medameda
Alberto and Francesco Meda's inspiration for Zucchetti's reassuring and composed Medameda collection was humanity, understatement and simplicity. 'We try to come up with objects with a simple, unified style,' explain the designers, 'objects that aren't too loud.' Avoiding formal extravagance in favour of special attention to the relationships between different components, and even between the items and people who use them, has produced an object of organic, flowing lines with universal appeal.
Medameda is also an intelligent faucet; its lever engages on the body of the single-lever mixer with a simple horizontal cut that maintains the continuity of the organic shape. Choose from finishes in chrome, nickel, brushed nickel, gold, brushed gold, metal black, brushed metal black and embossed matt black paint.
Isy22
Zucchetti's unique and essential tap system, Isy, originally designed over 20 years ago by Matteo Thun and Antonio Rodriguez, is now revisited and celebrated in a new collection. Acknowledging Isy's pioneering role, and the strong bond between the brand and the two designers, the new models maintain the technology and avant-garde aesthetic of the original design but interpret them in a contemporary key, pushing their intrinsic revolutionary element even further with finishes that are as unusual as they are refined.
The key to Isy22 remains its essentiality. Back in 2000, Zucchetti invited Thun and Rodriguez to create a new project intended not only as a faucet, but a system, a new idea of governing water inspired by water itself. Inspired by the concepts of subtraction and modularity the two designers conceived the Isy collection as a connection to the plasticity of water. The result is a light and essential design that repositions the technical components inside the basin instead of the tap – a technological innovation that influenced the evolution of bathroom products for years to come.
Thun and Rodriguez have reconsidered the collection, Isy22 embodying its original and already modern DNA but accentuating it. 'Are we afraid of modifying a classic?' ask Thun and Rodriguez. 'No, because our job is to question everything, even the things we have done. Obviously, the essence of the project must not be lost. We have gone a long way: in Isy22 we have changed everything – the design of the spout, the handle, the diameter – and yet, in reality, the icon remains. The heart remains.' To complete the new proposal, the 'no touch' electronic tap which meets the needs of contemporary life with synthesis and refinement.
Receive our daily digest of inspiration, escapism and design stories from around the world direct to your inbox