Artek's 'Hackability of the Stool' offers multiple takes on a design classic
London Design Festival 2023: Stool 60, designed by Alvar Aalto for Artek, is celebrated in a new exhibition at Vitra's Tramshed (until 6 October)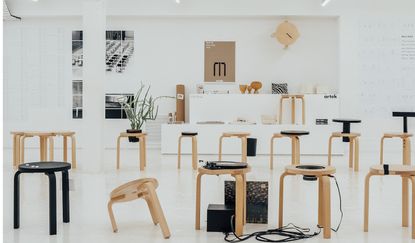 (Image credit: Taran Wilkhu)
A lamp. A xylophone. A wine bottle holder. A flowerpot. A mirror. A tie hanger. An ironing board. And the list goes on. These items may not sound visibly connected – yet they are among more than 100 objects created from 'hacking' one of the world's most iconic 20th century furniture pieces: Stool 60, designed by Alvar Aalto for Artek in 1933.
What can a stool be? The hacking of Stool 60
'What is a stool?' This question was the starting point for Daisuke Motogi, the Japanese architect and founder of Tokyo-based studio DDAA Lab, who dreamt up the research project 'The Hackability of the Stool (Possibility of modifying the stool)', which is currently on display at Vitra's showroom in Tramshed, east London, as part of London Design Festival 2023.
The idea of modifying a design classic in multiple functional ways – igniting a dialogue between modernism, mass-production and multi-usage products in the process – took seed following a request for the studio to provide around 150 stools for an event at a community space in Tokyo.
'Many masterpieces of stools have already been created,' Motogi tells Wallpaper*. 'We wondered whether there was any need to design more new ones. Instead we felt it would be more efficient to adapt existing products. As we thought about this, we came up the idea of adding necessary functions to an existing masterpiece stool.'
The first step was choosing a stool – with the studio immediately drawn to Stool 60, a widely celebrated modernist masterpiece. Describing the reasons behind their choice, Motogi explains: 'Because it is wooden and easy to modify. It's also stackable and easy to store. The straightforward design makes it easy to identify the modifications made. And many inexpensive imitation products are available, making it easy to conduct case studies and experiments.'
And so the fun began. The DDAA team came up with around 400 sketches, which were eventually whittled down to around 100 objects. Its 'rules' were clear and simple – added components were painted black; the stacking function was maintained as far as possible; and when creating new parts, the L-leg and top design were the focal points.
As the library of ideas expanded, categorisation was also key – with the 'hacks' loosely divided into around seven categories, among then Stool to_, _shaped Stool, _between 2 stools and Nonsense / Midnight.
From 23 June 2020, for 100 consecutive days, the studio created new, playful and diverse modifications of Stool 60, with each piece presented daily in an online exhibition on Instagram (due to pandemic restrictions at the time).
'As we began to think about systemising, it was not that difficult to get ideas,' says Motogi. 'However, there are 100 products that look simple but are difficult to create, so there were some points where we had to think through the process.'
The end result? An encyclopaedia of inventively modified objects for daily life – from the curves and cut-out lines of horizontally stacking chairs to a cat basket, a bin and a chess board, plus material experimentation, from rubber to blackboard seats.
It was during the 2020 Instagram exhibition that the project – which was launched independently by Motogi, mainly using imitation stools – first caught the eye of Artek, according to Marianne Goebl, the company's managing director.
'We were thrilled,' she says. 'We found out about it on Instagram as he was tagging Artek. We thought it was amazing as it shows the versatility of the stool. When it's turned upside-down it becomes specific – but by the sheer mass of this project it becomes versatile again. Conceptually, it was so interesting. And it's fantastic to become the subject matter. It's a great homage to the stool.'
Artek subsequently reached out to the studio and offered its support – enabling DDAA to use genuine Stool 60s for modification, paving the way for the current exhibition, following on from previous shows around the world, from Kyoto to Milan.
As Motogi explains: 'This is a project that adds diverse, niche and modest functions which have been cut out in the process of designing. It's an assemblage of research and ideas based on mass-produced products. We learnt we can keep the advantage of modernism and mass-produced products, and produce multi-products in a small lot. You can make a useful and diverse product as easily as possible.'
'Hackability of the Stool' is on view until 6 October 2023
Vitra Ltd
32 Rivington Street
EC2A 3LX
Receive our daily digest of inspiration, escapism and design stories from around the world direct to your inbox