Officine Gullo takes the kitchen outdoors
Officine Gullo's new range of outdoor kitchens brings contemporary, al fresco flair to a Florentine tradition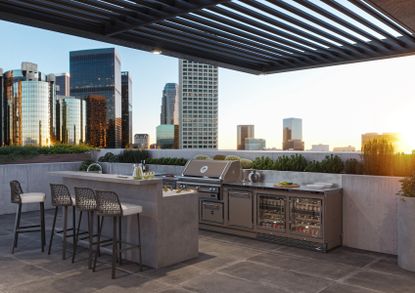 (Image credit: Courtesy of Officine Gullo)
In partnership with Officine Gullo
Officine Gullo's outdoor kitchens – designed for conviviality and al-fresco haute cuisine in spaces where gourmet dinner is prepared under the stars, morning breakfast is taken, lunches are hosted and cool-off cocktails are enjoyed after a swim in the pool – are made up of endlessly combinable independent elements that offer infinite customised design solutions.
From the composition of the furniture to the selection of a wide range of the best outdoor appliances, tailor-made solutions can be crafted for the kitchen space, guaranteeing the same functionality and style as Officine Gullo's professional indoor kitchens.
Modular appliances can be freely positioned in the kitchen according to the culinary needs of its owner in order to create different cooking areas, from the grill to the pizza oven, as well as different areas for refrigeration, washing and food preparation.
Officine Gullo: Italian kitchen excellence
The motor of the outdoor line is the Gullo Professional Grills, a barbecue that blends a legacy of innovation and craftsmanship, enabling home cooks to experiment with up to 15 different methods, including grilling, smoking, steaming and frying. A fry top, pasta cooker or wok ring can be inserted after removing grills, the cooking area completed by various modular elements for the outdoors: ice boxes, integrated refrigerators, wine coolers, pizza ovens, warming drawers, ice-makers, beer dispensers, as well as taps, sinks and cooking accessories such as side cookers, grills and maxi burners.
Gullo's Outdoor Kitchen is characterised by the use of high-quality AlSI 316 stainless steel, which has a low ferrous component and offers unrivalled durability, absolute resistance to corrosion, and an elegant appearance. It can be painted in any colour from the RAL range – in addition to custom colours available on request – and enriched with iconic brass finishes, customised and made unique.
None of this, says company founder Carmello Gullo, would have been possible without Florence, the company's home city. 'The city amalgamates the two cores of our production: tradition and technology,' he explains. 'The wonders of this astonishing place inspire us every day, guiding our imagination every time we devote ourselves to a project.'
Officine Gullo is a pinnacle of Italian excellence as a producer of luxury metal kitchens, professional cooking appliances and kitchen accessories, thanks to the vision and drive of Carmelo Gullo, now flanked at the company's helm by his three sons Pietro, Andrea and Matteo.
Today, Officine Gullo owns single-brand showrooms in major international cities and design capitals, including Florence, Milan, London, New York, Boston, Los Angeles, Shanghai, Hong Kong, Taipei, Moscow, Cape Town and Lagos.
The Florentine company is imbued with artisanal and technological innovation, creating exclusively with noble metals such as brass, copper and steel according to traditional Florentine craftsmanship. The result is a harmonious aesthetic between the classic and the contemporary, the most authentic expression of a great artisanal culture. In every Officine Gullo kitchen, all the cooking and refrigeration elements are capable of professional performance, made according to the principles of domestic ergonomics, that can be used at home on a daily basis in maximum comfort.