Lexus Design Award 2023: meet the winners and vote for the Your Choice Award
Vote in the Your Choice Award for your favourite design concept from the 2023 Lexus Design Award winners, displayed at Milan Design Week 2023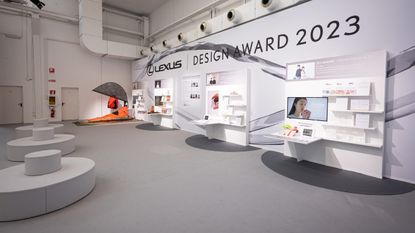 (Image credit: Lexus)
In partnership with Lexus
Launched in 2013 by the Japanese luxury carmaker Lexus, the annual Lexus Design Award has become a vital part of the annual design calendar. Combining supportive mentorship and judging from leading figures in the creative industries, with a consistent vision of change and innovation, the Lexus Design Award follows the company's belief of 'Design for a Better Tomorrow'.
This year, the programme incorporates a new Your Choice Award for the first time. the Your Choice Award gives online audiences as well as visitors at Milan Design Week a chance to vote for their favourite of the four winning works that best represents 'Design for a Better Tomorrow'.
The winning works were chosen by the judging panel, MoMA curator Paola Antonelli, designer Karim Rashid, and Simon Humphries, chief branding officer, Toyota Motor Corporation.
Designer Joe Doucet is one of this year's Lexus Design Award mentors, alongside solar designer Marjan van Aubel, architect Sumayya Vally, and Pentagram partner Yuri Suzuki. Over a three-month period, the mentoring team helped each winner through a series of workshops and prototype development sessions, bringing their wealth of real-world experience to the conceptual designs to refine and enhance each idea.
Lexus Design Award 2023: the four winners
This year's four winners include the Swedish designer Pavels Hedström, whose proposal for a transforming high-performance jacket, Fog-X, is intended to harvest drinking water from the atmosphere in arid environments.
Jiaming Liu's Print Clay Humidifier uses recycled ceramic waste to create a non-electric domestic device that is both functional and beautiful.
The US-based duo Temporary Office has created a unique 3D topographic puzzle, 'Touch the Valley'. It is designed to give the visually impaired a sensory and immersive experience, paving the way for future types of navigational tool.
Finally, there is the Zero Bag, the work of Kyeongho Park and Yejin Heo. This eco-friendly alternative packaging is water-soluble and incorporates substances for washing the bag's contents before use – immerse packaged fruit or vegetables, for example, and the plastic's coating of baking soda will help to clean the food, while the plastic itself dissolves, cutting down on excessive waste.
Joe Doucet on the Lexus Design Award
'I think one thing that can be taken away from the Lexus Design Award is that design is in a position to contribute better solutions rather than just more objects,' says Doucet. 'In the last century, it was enough for a designer to create a beautiful chair. The challenges we face in this century cannot be solved by aesthetics and ergonomics.' Doucet's agency has offices in London and New York and works across branding and product design, from traditional to high-tech. 'I think the Lexus Design Award embodies the refocusing of the design skill set towards the loftier issues,' he says.
Mentoring is a core part of the award experience. 'Without execution, ideas remain ideas, however brilliant they are,' says Doucet, explaining how he and his fellow mentors bring practical skills, forged through experience, to the winners' ideas. 'Bringing next-generation talent into proximity with those who work in the space of ideas turned into executions can only benefit all the parties involved,' he says. 'It really is a beautiful hack for rapid change.'
Throughout its decade-long history, the Lexus Design Award has tracked emerging trends and preoccupations amongst the next generation of design talent. 'I think young designers really feel the weight of the world they are designing in and for,' Doucet says. 'These days you see far less of "Let me design this object and use some eco-material for it" and more questioning about "Should this object exist in the first place?"'
As design professionals, the four mentors are ideally placed to encourage and direct this refocused approach. 'Young designers have an inherent understanding of the weight of putting new things in the world,' he says. 'That couldn't be a better starting place for a career.'
Doucet, van Aubel, Vally and Suzuki represent a diverse swathe of contemporary design practice, working in a world where the word 'design' is laden with a multiplicity of meanings.
As Doucet puts it, '"designer" is a term almost without concrete meaning in today's society. In the past it had as clear a meaning as "artist" or "architect". The core purpose of a designer is to create things that can be produced at scale, but what those things actually are have never been more expansive. Today's designers might be responsible for a vase, a website, a dress, a phone, an energy system, a new material, a business model; in a way, it is the Wild West of the creative professions and there has never been a more exciting time to be in it.'
This year's four winners were selected from 2,068 entries from 63 countries and regions. 'It really is one of the most inspiring of contemporary awards,' Doucet says. 'The winning entries have such a high threshold of innovation, boldness and aesthetics that it is hard to find a parallel anywhere else. This year's winners were certainly no exception. I'm proud of each and every one.'
How to vote for the Your Choice Award
For the first time, Lexus invites you to participate in the Your Choice Award (until 23 April 2023), and help shape the Lexus Design Award's unique and perceptive insight into contemporary design culture.
Visit the Lexus Design Award Official Website and vote here in the Your Choice Award
Jonathan Bell has written for Wallpaper* magazine since 1999, covering everything from architecture and transport design to books, tech and graphic design. He is now the magazine's Transport and Technology Editor. Jonathan has written and edited 15 books, including Concept Car Design, 21st Century House, and The New Modern House. He is also the host of Wallpaper's first podcast.