The Lexus Design Award 2023 ventured into new realms, emphasising reuse and reimagining
A fog-capturing jacket, a puzzle to guide the visually impaired, a non-electric humidifier made with recycled ceramic waste, and water-soluble wash bags to remove chemicals from your daily shop: these are the four inspiring winning projects shown during Milan Design Week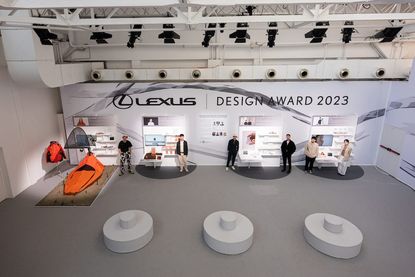 (Image credit: Lexus)
Wallpaper* Newsletter
Receive our daily digest of inspiration, escapism and design stories from around the world direct to your inbox
Thank you for signing up to Wallpaper. You will receive a verification email shortly.
There was a problem. Please refresh the page and try again.
In partnership with Lexus
There were over 2,000 entries to the Lexus Design Award 2023, which was based on the theme of 'Design for a Better Tomorrow'. The four winners were selected by a judging panel including MoMA curator Paola Antonelli, designer Karim Rashid, and chief branding officer, Toyota Motor Corporation, Simon Humphries. Chosen for the originality of their ideas, the winning designs demonstrated a shared concern for social and environmental issues, with their seemingly modest solutions executed with great imagination and skill.
The annual international award was founded a decade ago to nurture emerging designers and help them realise their vision through funding from Lexus and mentorship with industry professionals. This year, they included the solar artist Marjan van Aubel, multidisciplinary designer Joe Doucet, sound artist Yuri Suzuki and architect Sumayya Vally who, in the months leading up to the final reveal, worked with the winners to evolve the original design concepts.
Involved as part of the judging panel since the award's inception, Paola Antonelli told us that she 'continued to note the design field's evolution. These designers take an increasingly visionary and yet realistic view that encompasses not only humanity but also all the rest of nature.' We asked her if she had discerned any general theme amongst the 2023 entries.
'Much to my delight, most projects – almost all, actually, also among those that did not make the cut – shied away from decoration and formal study,' says Antonelli. 'Instead, they dealt with real issues related to individuals, communities, and the environment.'
The judges approached the selection process with a true openness. 'We tend to privilege projects that have the potential to be impactful, that have the goal to change behaviours, that consider consequences, and that will benefit from the opportunity to be developed further with a mentor,' Antonelli says, noting that there's an ongoing shift in the role and perception of the designer. 'Design comes in many forms, but this award and this jury appreciate the elegance that comes from considering a systemic approach, which sometimes also means transformation and reuse,' she adds.
One of the key aspects of the Lexus Design Award is the way in which the winners refine their work in collaboration with the mentors. 'The powerful chemical reaction between winners and mentors is what makes these awards unique, and I feel that it was particularly crucial this year,' she explains. 'The winners were able to fine-tune their already brilliant ideas and make them into poetic objects that are also ready for prime time. The mentors did a great job; I could see the progress very clearly. '
The winners of the Lexus Design Award 2023
Fog-X by Pavels Hedström
Fog-X is a jacket that transforms into a tent-like shelter of mesh fabric which collects water particles from fog and mist, then stores up to ten litres of drinking water a day. The initiative of the Swedish architect Pavels Hedström, what began life as a heavy backpack, following many iterations and a trip to Chile's Atacama Desert for a test run, evolved into a skilfully executed self-contained garment.
Made in collaboration with a textile engineer, everything needed to capture fog – the shelter, water pipe, bottle – are integrated seamlessly into the jacket. Meanwhile, the kit has a mobile app to help locate foggy areas and detect optimum times to collect the particles.
As a designer, Hedström explores how holistic approaches can be applied to existing ecosystems. Ancient cultures used similar fog-catching techniques by manipulating seal skin or natural materials such as stone. Fog-X also works with a low-tech fabric – a simple mesh weave that allows through enough air to catch the droplets perfectly. 'The material is optimised to catch fog, which means it has huge potential in how it could be integrated into buildings or other structures,' he says, acknowledging that this will have its own design challenges.
Hedström knows that his design is not accessible to the vulnerable people in need of clean water for whom the concept was initially imagined. For now, Fog-X is a tool to shift our mindset, change how we view nature, resources and ecosystems. 'If it changes our thinking, then that's the true value of how it can become accessible to people in need. You don't need anything fancy, only the material. For me, this is the direction of the concept.'
Print Clay Humidifier by Jiaming Liu
Industrial designer Jiaming Liu's Print Clay Humidifier is a simple 3D-printed humidifier made with recycled ceramic waste. Based in China, Liu wanted to find an alternative solution to the high energy air conditioning that is used in the average home. His initial thought was triggered by memories of his grandfather's concrete house in a remote village in south China, where water, generously splashed on the floor and walls, naturally cooled the air in the heat of the summer.
After rounds of testing and prototyping with different materials and techniques, Jiaming Liu settled on a 3D printing method using recycled ceramic powder. The powder positively alters the property of the material to be more porous and therefore allows better water absorption. The shape also helps with the water immersion for an energy-efficient, recycled and recyclable version of a typical household humidifier.
Touch the Valley by Temporary Office
Touch the Valley is a 3D topographic game puzzle designed to help the visually impaired navigate landscapes and nature through their sense of touch. The collaborative work of Temporary Office, US-based architects Vincent Lai and Douglas Lee, the idea came from their experience in making demountable architecture models for clients that needed to be transported. It also stems from their concern for how flat screens and technology rob us of the training our full senses needed to navigate without sight and sound.
In addition, Lai says it came from watching his grandmother trying to adapt to sight loss. 'It was quite hard for her to find a knife in a kitchen, cut vegetables properly and figure out where a stove is,' he says, 'so I thought that it's much easier for visually impaired people to recognise stuff through touch.'
During the design process, the puzzle pieces evolved with user-testing studies finding that a certain tactility – with raised grooves and smoother edges with varying different elevations, for instance – helps add to the sensory experience. At the same time, magnetic feedback for when the right pieces are placed together helps the user concentrate more on understanding the textures and game playing without too much cognitive load.
Lai and Lee have experience working at the architectural practices of David Adjaye and Bjarke Ingels Group on projects crossing the boundaries of architecture, public space, preservation and product design. The gaming theme for Touch the Valley is born out of their love of board games and puzzles, and the journey involved in solving them. 'That was our inspiration, to create something of bitesize fun that educates you about the world we live in, which is full of texture and interesting contours,' says Lee.
Zero Bag by Kyeongho Park and Yejin Heo
Kyeongho Park and Yejin Heo's Zero Bag is an eco-friendly package with a paper detergent or baking soda film attached to a water-soluble alginate bag. Industrial design students at Hanyang University in the Republic of Korea, the duo's initial concept was born out of unnecessary packaging waste when purchasing clothes, and clothes buying is linked to the process of washing chemicals off of clothes before wearing them for the first time.
Initially focused primarily on the retail clothing market, the idea is to seal garments in these single-unit eco-bags, which come replete with a paper detergent that can be popped into the wash on purchase. Through the Lexus Design Award's mentorship programme, the Zero Bag concept evolved to include other retail items, such as food, whereby the detergent is replaced with baking soda to clean away unwanted pesticides from fruits and vegetables.
As Paola Antonelli explains, the Lexus Design Award brings together projects that are both 'realistic and idealistic at the same time'.
She adds, 'The winners are elegant in their attempt to add something meaningful and useful to the world. They all stress the fact that design is not just about making things, but also and especially about envisioning new processes of making – and sometimes unmaking.'
For more details of the Lexus Design Award 2023, visit DiscoverLexus.com
Receive our daily digest of inspiration, escapism and design stories from around the world direct to your inbox