Desalto juxtaposes elegance and elemental power in new furniture campaign
With a brand new advertising campaign and a bold new design philosophy, Desalto brings Italian excellence to the table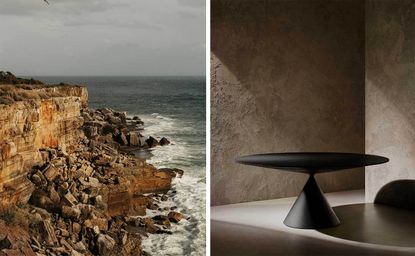 (Image credit: Robert Rieger)
In partnership with Desalto
A new advertising campaign heralding a fresh direction in Desalto's design philosophy embodies the brand's future-facing culture of Italian design.
Endorsing a curiosity for craft, modern technologies, natural elements and materials, the campaign – designed by Davies Costacurta and shot by Robert Rieger – depicts the Desalto 'Clay' table as a bonafide, contemporary furniture icon. 'Clay's textures, materials and unique construction make a connection to nature and elemental forces. The table's raw power is juxtaposed with warm lighting, bringing natural drama to a domestic environment. Versatile with a precarious elegance, 'Clay' is a synthesis of design, beauty and harmony of proportion. And a perfect representation of everything that the company stands for.
The story of Desalto began back in 1990, when the four Orsenigo brothers – heirs of a family metalworking company – founded a company that would promote established and up-and-coming talent, and function as an ambassador for Italian design throughout the world.
Through its fundamental values of harmony, expressive elegance, clean design and bold originality, Desalto would be fluid and consistently progressive. With each design imbued with the essence of Italian craftsmanship (specifically of Delsalto's home in the Brianza area), every piece in the portfolio is intended to be emblematic of creative flexibility and qualitative excellence.
This deeply ingrained culture of design, coupled with an inexhaustible curiosity for technologies and innovative materials, is typified in the Desalto tables featured in the new campaign.
Take three Desalto tables
---
'Maxi Clay' table by Marc Krusin, 2023
The iconic 'Clay' table reaches unprecedented and generous dimensions to become 'Maxi Clay', with a surprising 3.5m oval top. 'Maxi Clay' is both furniture and sculpture. A marriage of beauty and harmonious proportions, its teetering union of two volumes achieves a perfect balance. The top and base of the table experiment with science and engineering, the bold support of the two sectional cones reduced to a minimum, meeting at opposite vertices, defying gravity in a visually precarious balance that is given shape and solidity via an elegantly sturdy construction.
'Heb' table by Francesco Rota, 2023
This piece with a strongly industrial look joins the wide collection of Desalto tables. The bold character and generous dimensions make it particularly suitable for contract projects or for homes with an international and metropolitan feel.
'Fan Outdoor' table by Piero Lissoni, 2023
Strengthened by the character conferred in the materiality of its iroko-wood top, the 'Fan' table is suitable for both indoor and outdoor use. Piero Lissoni's design for the structural legs expresses a precise, stylistic rigour with an industrial Italian accent.
Receive our daily digest of inspiration, escapism and design stories from around the world direct to your inbox