Try dye: how to colour your hair from home
Alex Brownsell, founder of Bleach London, shares expert tips for at-home bleaching and colouring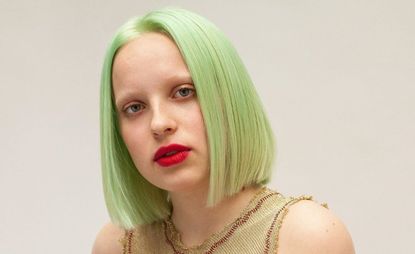 (Image credit: TBC)
With at-home salons still the status quo in many parts of the world, we asked Alex Brownsell, founder of Bleach London and hair colour extraordinaire, to share some tips on DIY hair dye.
Make sure to consult her step-by-step guide before snapping on your gloves and mixing your colour to avoid any hair-dye disasters. For even more tricks on how to maintain your good work, watch the newly launched Bleach TV series on Bleach London's Instagram.
How to prepare
Do your research and read the instructions first, as it's not a one-size-fits-all process. Your hair texture, length, thickness, and porosity all contribute to the final result and how long you need to leave the bleach on for.

I'd recommend using something like our Blonde Bundles which have all the products you need for each step of the process, which is bleach to life the colour, toner to even it out, and then a hydrating mask to prevent dry out.
If you have fine hair, curly hair and afro-hair or are just worried about damage, choose a bundle with Plex Bleach which lifts while strengthening and protecting with an anti-breakage additive.

A common mistake people make is forgetting to tone after bleaching. Every hair type will have a yellow or brassy hue right after bleaching, so you would colour correct this with a toner, not by leaving the bleach on for longer.
Getting creative with colours
We always mix our semi-permanent to create custom shades in salon, and this is really easy to do at home too. If a colour has a conditioning base its easier to blend, so if you want to make a pastel shade more vibrant or sheer out a colour.
To soften a colour, mix in a reparative conditioner like our Beer Conditioner to dilute the tone. To make a pastel more vibrant, use a bold shade from the same colour family – like a hot pink with a softer rose, or an electric orange with a light peach.
Experimenting with styles
To get two-toned hair you can either bleach the front sections of your hair that frame the face, or section the top of your hair from the ear up and try bleaching the bottom half for a 'peek-a-boo' effect.
You can leave the blonde to contrast with your natural colour, or go over the bleach with your choice of a semi-permanent for a really funky look. In the salon, pink and peach bits have been a really popular look this year.
What to do if things go wrong...
Choosing a semi-permanent colour is a good option, so if you're not 100 per cent on the final colour you can just can shampoo your hair more often and it'll fade quickly, especially if it's a pastel colour.
To avoid any mistakes from the beginning and if you're apprehensive about the overall process, there are a lot of digital tools and services to help with the at-home process and guide you through each step.

On Bleach's website you can live chat with a salon stylist and send pictures of your hair for custom product recommendations to and get advice on the best approach.

After you buy your products, you'll be given the option to book in for a one-to-one video call. You can choose a date and appointment time, where you'll be joined by a Bleach stylist on a video call. They will coach you through the entire process, so you'll be an expert in no time.
How to upkeep
In terms of styling out roots you have a few different options. Touching up your roots at home is much easier than you think and I'd recommend doing it at the 6-8 week mark (approx. 2.5cm long). People think that leaving their hair longer between bleaching will protect it but it's actually the opposite.

You damage hair less by only ever bleaching the first few centimetres, as the heat from your scalp helps to speed up the lifting process- meaning you can leave the bleach on for less time.
If you have very dark roots and want to grow them out in a more fun or experimental way, you can apply a semi-permanent to your old bleach. It makes the dark root look less harsh and more intentional, and the colour will fade out gradually.

If you have grown out highlights or balayage, this is also really easy to blend out at home. We have a product called the 'Root Blend Balayage Kit' which includes a balayage board to help create that face-framing, natural placement to blend out your roots. This is a really great technique for curly hair types too as you can target individual curl strands that frame the face.
Have fun!
INFORMATION
Mary Cleary is the Beauty & Grooming Editor of Wallpaper*. Having been with the brand since 2017, she became an editor in February 2020 with the launch of the brand's new beauty & grooming channel. Her work seeks to offer a new perspective on beauty, focusing on the pioneering personalities, product designs, and transformative trends within the industry.