New Berlin gym uses neuroscience to improve physical health
Hagius is a new Berlin gym that uses light and scent to create the optimal enviroment for your workout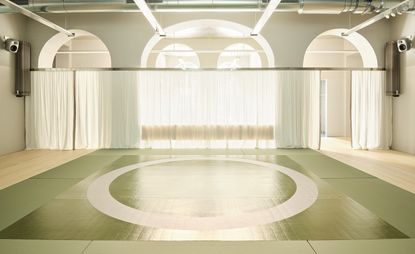 (Image credit: press)
The 'mind body connection' is nothing new. It stretches as far back as Ancient Greece (birthplace of the 'gymnasium'), where thinkers such as Socrates and Plato taught that physical health and intellectual vigour go hand in hand.
Flash forward to the modern gym and you will often find meditation classes and restorative yoga on offer, or hear about the mood-improving benefits of cardio, but you will rarely find a place that concretely describes the physical and mental benefits of particular exercises.
Berlin gym in tune with your biorhythms
Hagius is a new Berlin gym that is attempting to do just that. The space offers training sessions grounded in neuro-athletic training and sports science, with a particular focus on 'biorhythms', in line with the suggestion that our bodies require different stimuli at different times of day.

For instance, the circadian rhythm determines when our bodies are awake and when they can relax. 'Following the sun,' the Hagius team writes, 'we would be active in the mornings and calm in the evenings and the time signals to trigger this response can naturally be found through light, food, sound, scent, and movement. If we don't live in harmony with these rhythms (as is often the case in our modern day lifestyle) our ability to perform and regenerate steadily decreases.'
Hagius tries to mimic or stimulate these natural rhythms through cool and warm toned light strips installed throughout the space. So that, for instance, cool white light is dimmed to minimise the proportion of blue light waves that would otherwise disturb the natural melatonin production.
Hagius uses scent in a similar way. The gym has collaborated with Berlin-based fragrance studio Aoiro to create scents made from natural ingredients such as citruses, herbs, spices and woods to promote different biorhythmic responses to the time of day.
As a result, all individual training and small group courses – from kettlebell to, boxing, circuit training, movement, pilates and yoga – are accompanied by targeted stimulation of the brain and nervous system through light and scent. The idea being that these different sensory factors can be used to create the ideal environment for the body's natural rhythm at that particular moment.
'We wanted to create a place in Berlin where we could offer a different kind of training experience,' says co-founder Timothy Hagius about the space. 'Physical performance starts in the mind. Movement is regulated by the central nervous system and sensory input plays a significant role in that process.'
Timothy, a set designer and director, established Hagius with his brother, Nicolas, a model. It feels like a particularly Berlin story, that two such brothers would open up a multisensory gym experience in a former post office, and it certainly gives Hagius cachet.
The brothers worked with architects Pierre Jorge Gonzalez and Judith Haase to create the gym's minimalistic interior, with ash floorboards from Germay's Havelland region mixed with stainless steel and granite fixtures. The result is a space with few distractions, making it easy to focus purely on your workout.
'We asked the architects to design a space that would give guests a sense of being disconnected from everyday life during their workout, despite being located in the middle of the city,' says Nicolas. 'We wanted to minimise external irritants and purposefully counteract the excess noise of modern life.'
INFORMATION
hagius.de (opens in new tab)
Mary Cleary is the Beauty & Grooming Editor of Wallpaper*. Having been with the brand since 2017, she became an editor in February 2020 with the launch of the brand's new beauty & grooming channel. Her work seeks to offer a new perspective on beauty, focusing on the pioneering personalities, product designs, and transformative trends within the industry.