Word play: the Cuban artist Iván Capote uses letters to be heard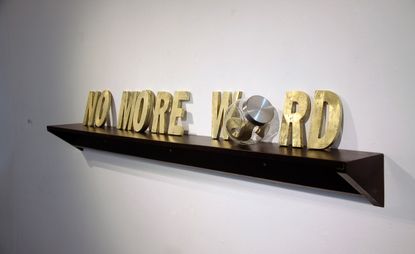 (Image credit: TBC)
Ever since he left the tobacco-producing region of Pinar del Río to study art at Havana's Instituto Superior de Arte, Iván Capote has been drawn to conceptualism and visual poetry. 'During that time I started writing poems on an old typewriter and I became fascinated with the possible meanings a word could have just by changing a single letter,' says Capote, whose text-based art took root with his 2003 sculpture Dislexia (Dyslexia), which was exhibited at this year's Havana Biennial.

The work was a kinetic sculpture that temporised the reading of an engraving in the bottom of a tray covered with dark industrial oil. To wit, a machine cut a line through the oil giving viewers a quick opportunity to read the sentence — LIFE IS A TEXT THAT WE LEARN TO READ TOO LATE — before the oil covered it again. 'Language and poetry offer me so much freedom to express my ideas.

A raft of new ideas have surfaced in Verbum (I), a solo show at the blue chip state-run Cuban exhibition space Galería Habana, where Capote and his art star younger brother Yoan conceived and exhibited a series of back-to-back shows, Fonemas y Morfemas, in 2011. Two of the works were shown in the Vedado studio that Capote shares with Yoan during this spring's 2015 Biennal — Mantra occidental (Western Mantra), stainless steel letters O-W-N tacked to the wall holding lit incense sticks (a commercial play on the eastern meditative mantra of 'om') and No more words, a nearly full glass of water that contains the letters spelling out MENTIRA (lie), with an 'S' left to the side — multi-mendacities would force the glass to overflow.

Capote is also exhibiting a series of recent and recurring paintings and sculptures, including No Rearview Mirror, a clock with the phrase 'do not look back' substituted for numbers; canvases covered in phrases like 'Horror Vaccui' and 'Vacio (Emptiness)', as well as a long link of chain that spells out 'Deseo (Desire)'.

'The verbs express animus states, feelings, actions and aptitudes, and the whole exhibition comments about how art shares the capacity (with words) to freeze actions for external thought,' says Capote, who is sending works to New York with Galería Habana for the Armory Show next March, and will participate in a group show in April at the Ludwig Forum in Koblenz, Germany. Though he plans to make more material-focused sculptures and paintings without texts for an upcoming solo show, he'll continue to express his linguistic concepts in more ambitious formats as he did at Havana's La Cabaña fortress this spring.

Inside the 18th century fortification, Capote installed a wooden scaffolding that appeared to support the vaulted munitions space while spelling out the word FAITH. 'This was an old idea that I had in my mind from the time of the breakdown of socialism in Europe, but I didn't have the courage to present it to the public until this Biennal,' says Capote. 'It's like a renewable reinforcement that calls our attention to keep the faith in the face of any kind of collapses we face in our lifetime.' Wise words from an artist who has overcome many.
INFORMATION
'Verbum (I)' is on view until 15 January
ADDRESS
Galería Habana
Línea 460 e/ E y F
Havana, Cuba
VIEW GOOGLE MAPS (opens in new tab)