'The Uncanny' by Adeline de Monseignat and Berndnaut Smilde at Ronchini Gallery, London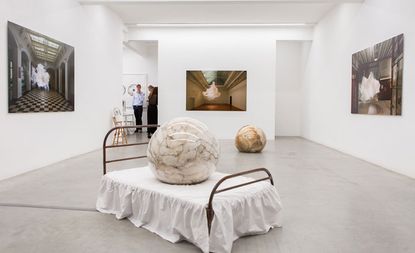 (Image credit: Ronchini Gallery )
Jeepers creepers! Ronchini Gallery (opens in new tab) in London opens the year with 'The Uncanny (opens in new tab)', where curator James Putman tapped emerging artists Adeline de Monseignat (opens in new tab) and Berndnaut Smilde (opens in new tab) for the spine-tingling, hair-raising exhibition.

The artists, based in London and Amsterdam respectively, turned to Sigmund Freud (opens in new tab)'s seminal essay of the same name for inspiration. The enfant terrible of psychoanalysis pioneered the uncanny as a conflicting sense of familiarity and foreignness felt at the same time. To that end, the Dutch artists have quite appropriately taken wildly differing approaches in their examination of the Freudian concept.

De Monseignat's works with tactile, organic materials like fur to create installations that explore the illusive fugue between life and death. Her vexing 'creaptures' (creatures-cum-sculptures) encased in flawless glass orbs are seemingly trapped in limbo at first. Upon an admittedly trepid approach to the objects for closer inspection, it becomes apparent they subtly expand and contract, in an eerie manner that alludes to a slow, dying breath.

Smilde centers his practice on the ephemeral and is known for his otherworldly photographs of 'real' clouds theatrically suspended in grand, empty rooms. What is notably unique to this show however, is his interesting application of aerogel over architectural models. Also known as frozen smoke, it consists of 99.8% air and is the lightest solid material on earth.

While undisputedly striking in their subject matter and glossy execution, the artworks ultimately failed to contribute anything new to the Surrealist vocabulary. These young guns have a promising future ahead, but for now the show provoked a sense of unease as fleeting as Smilde's clouds.
ADDRESS
22 Dering Street
London W1S 1AN