Sophia Vari sculptures, Cartagena de Indias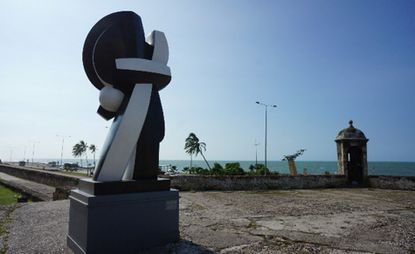 (Image credit: TBC)
Wallpaper* Newsletter
Receive our daily digest of inspiration, escapism and design stories from around the world direct to your inbox
Thank you for signing up to Wallpaper. You will receive a verification email shortly.
There was a problem. Please refresh the page and try again.
Sophia Vari's monumental sculptures slip into the local populous surreptitiously by the dark of night. Arriving unannounced, the statues mingle with the local vernacular, unsettling subtly the status quo, injecting a new dynamic into the everyday surroundings.
The latest city to awake with the Greek artist's powerful collection of 15 bronze forms is the picture postcard Colombian city of Cartagena de Indias, the UNESCO world heritage site on the Caribbean coast.
See more of Sophia Vari's sculptures in Cartagena de Indias
Vari, the glamorous other half of Latin America's most famous living artist, Fernando Botero, is highly selective about where she travels with her family of rhythmic figures. An elite group of high-rolling cities steeped in history and dripping in Louis Vuitton - Rome, Paris, Monte Carlo, Baden-Baden and Geneva, as well as Vari's hometown Athens and Pietrasanta (where the couple currently base themselves) - have all received visits from Vari's sculptural offspring.
Each city interacts differently with the statues. 'I don't want to disturb the city - I want to integrate into it,' she says. 'When you do an exhibition like this, you have to be part of it. Every time the sculptures change place, it's interesting to see how they mix with each city.'
Bronze polychrome sculptures such as 'Danseuse Espagnole', 'Les Serpents de la Guerre', 'Tango' and 'Vent du Sud' have already left their mark on Colombia's Caribbean playground for millionaires. Incorporating elements of surprise, movement and growth into their carefully considered designs, Vari's work combines sensual curves with sharp edges, abstract but classical, always monumental.
'I have always thought art is there to help people to enjoy and see beauty and harmony,' she says. 'I don't think that art for me is something to disturb you. It is something to admire, and it has to be beautiful and agreeable.'
For an exhibition on this scale, however, it is important that the works are imposing, so that they command respect amid the spectacular surroundings. 'These types of sculptures must dominate the environment in a powerful way,' says the artist. This 'dominance' isn't simply about size (the sculptures range from 2m to 6m tall). '"Monumental sculpture" is something very specific - a combination of small and large volumes,' she explains.
Formerly a fortress where the Spanish stored gold plundered from the colonies before it was shipped to Europe, Cartagena's old town is now home to Colombia's most luxurious second homes, providing a fantastic backdrop for Vari's contemporary collection.
Organised by the New York and Cartagena-based gallery, Nohra Haime, 'Sophia Vari: Form and Colour' throws up some celebrated meetings with the city's other cultural and artistic landmarks. Her black and white duo of intertwined dancers, 'Tango', performs on the walls in front of the terracotta Caribbean hideaway designed by Rogelio Salmona for Colombia's Nobel laureate, Gabriel Garcia Marquez. Meanwhile, 'Serpents de la guerre' livens up the plaza in front of the home of the Catalan-Colombian painter, Alejandro Obregon. And the swirling 'Trouble essentiel' vies with her husband's 'La Gorda' for the attention of Colombia's jet-set in the city's version of Venice's Piazza San Marco, the Plaza Santo Domingo.
The statues will be on display until 29 February, when they continue their world tour by travelling to Genoa.
Receive our daily digest of inspiration, escapism and design stories from around the world direct to your inbox
Originally hailing from the UK, Rainbow Blue Nelson first landed in Colombia in search of Tintinesque adventures in 1996. Subsequent forays from his Caribbean base in Cartagena have thrown up a book about Pablo Escobar, and the Wallpaper* City Guides for Santiago, Brasilia, Bogota and Miami. Currently completing a second book about Colombia whilst re-wilding 50 hectares of tropical rainforest on the country's Caribbean coast, he's interviewed some of South America's most influential figures in art, design and architecture for Wallpaper* and other international publications.