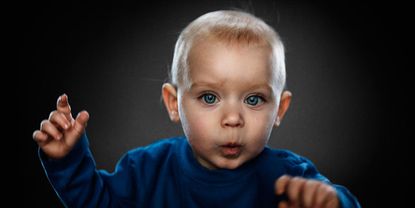 (Image credit: TBC)
When Robbie Cooper filmed a series of porn aficionados sharing (and showing) the depths of their passions for Wallpaper's inaugural sex issue last year the response was explosive. The photographer and video artist films people through a screen (in which a Red digital camera is embedded) watching a range of different visual stimuli, from computer games to horror films, footage of executions to children's cartoons. He then takes stills from the footage and the extremely high-resolution, densely saturated portraits are the resulting works of art.
The most striking thing is that you can't tell who's watching what (though the flinching ecstasy of Cooper's 'Immersion: Porn' participants is a bit of a giveaway). Is a girl sniggering at porn or a cartoon? No, she's actually watching the torture and execution of a Mexican soldier. Though the portraits are imbued with artistic merit based purely on the clarity and sharpness of the images themselves, they become even more intriguing when you realize what the individuals are watching.
Watch Robbie Cooper: Immersion
A series of Cooper's Immersion portraits are the subject of an exhibition at the National Media Museum, combined with a selection of his Alter Ego portraits – a pictorial study of computer gamers and the avatars they create to represent themselves in the virtual world.
The significance of Cooper's portfolio is immense for a generation saturated by and engrossed in media, in all its forms. When one considers the extent to which our lives are spent staring at a screen – absorbing, downloading, interacting, passively and actively – it pays to see what's happening in our faces when the screen shoots back. The results are unguarded examples of human emotion expressed in an entirely one-sided exchange - a fascinating byproduct of the technological and internet revolution - amusing, heartwarming and also rather dark at times.
Watch Robbie Cooper's Immersion: Porn