'Reunion': Richard Smith's colourful paintings come home to Letchworth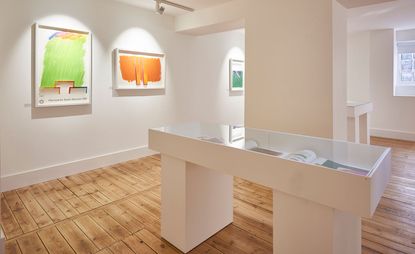 (Image credit: TBC)
The Tate Britain archive can count nearly a hundred paintings by Richard Smith, from his ebullient 3D canvases from the 1960s to his more subdued 1970s etchings and lithographs. But in Hertfordshire, where the artist spent his early years, there was nothing – until last year, that is, when the North Hertfordshire Museum acquired a small, experimental drawing for its growing collection.

That acquisition spurred on curator Laura Dennis, who recently began her tenure at the refurbished Broadway Studio & Gallery in Letchworth Garden City, the utopian early-20th-century suburb 28 minutes from London where Smith was raised. 'I wanted to have an opening show that would be relevant to the local audience but also hopefully attract wider interest,' says Dennis from the gallery, newly extended within a 1920s arcade. 'Richard seemed the perfect artist to approach – he's from town, he has an international career and I also thought his work was so colourful and joyful – a really nice way to get things started.'

With help from North Hertfordshire's curator, Dennis approached the artist, and got an instant response from his wife, Betsy. 'She said he has fond memories of growing up in here and was very pleased about us wanting to do this show,' says Dennis. 'His work hasn't been on display in Letchworth since the 1970s.'

While internal walls were removed and flow rationalised over the two-storey space, Dennis negotiated with Flowers Gallery in New York, where Smith has lived for more than half a century. They gathered a series of 30 paintings from across Smith's career 'that are absolutely perfect for our space', says Dennis. 'You'd think he'd made them for us.'

Yesterday, the gallery opened, sans Smith (at 85, he'll more likely travel after the spring thaw) but with five decades of 'lyrical' painted works, interlaced with vibrant brushstrokes 'that give them a woven character', says Dennis. It represents a Richard Smith renaissance of sorts, at a time when Letchworth is enjoying huge investment from the local heritage foundation to improve the appearance and efficacy of its most precious buildings. Around the corner, the gallery's namesake Broadway Cinema is reopening as a live theatre and performance space after a similar refurb. By the time Smith arrives back in his hometown, it'll be as if they've both come full circle.
INFORMATION
'Richard Smith: Reunion' is on view until 5 June. For more information, visit the Broadway Gallery's website
ADDRESS
Broadway Studio & Gallery
2 The Arcade,
Letchworth Garden City, SG6 3ES