As Paris begins to reopen, Perrotin introduces a series of spirited cooperative exhibitions
In the name of solidarity, Perrotin has invited 26 Parisian galleries to take part in four consecutive presentations in its Saint-Claude space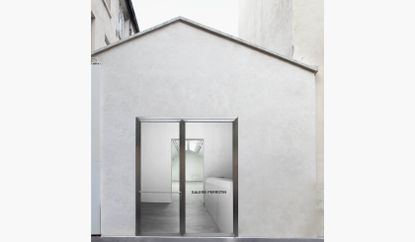 (Image credit: TBC)
On 11 May, France began a gradual easing of restrictions after two months of strict lockdown. To mark the reopening of its Paris galleries, Perrotin invited 26 independent galleries from across the capital to take over its Saint-Claude space and gain further visibility within the wider contemporary art scene. 

Perrotin isn't alone in expressing solidarity in this tentative, post-isolation period. Other blue-chip institutions are also demonstrating support to younger spaces including Galerie Thaddaeus Ropac, who will host the work of 60 international emerging artists in its 2000 sq m Pantin gallery.
Perrotin's initiative, 'Restons Unis' will take place in four consecutive phases, throwing the spotlight on six to seven galleries each time. Here's what to expect from the first exhibition, titled 'Emmanuel':
Balice Hertling
Isabelle Cornaro
Founded in 2007 by Daniele Balice and Alexandra Hertling, the independent Belleville gallery will present Homonyms, a series of triangular relief sculptures by Isabelle Cornaro. In this series, the French artist represents the Western habit of over-consumption and accumulation, incorporating found objects into her Acrystal resin casts.
Anne-Sarah Bénichou
Marion Baruch
Named after its founder, Galerie Anne-Sarah Bénichou opened four years ago in Le Marais, the go-to Parisian district for arts and culture. In this show, the young gallery is exhibiting the work of 90-year-old artist Marion Baruch, comprising installations made from leftover textile materials and creating an impactful dialogue between art and society.
Crèvecoeur
Ad Minoliti
Founded in 2009 by Axel Dibie and Alix Dionot-Morani, Crèvecoeur has spaces in both Paris and Marseille. For 'Emmanuel', the gallery will showcase a selection of works by Ad Minoliti. The Argentine artist draws upon geometric abstraction to produce striking and vibrant installations that evoke alternative realities and explore issues around gender.
Frank Elbaz
Blair Thurman
Launched in 2002, this Parisian gallery focuses on celebrating the works of both French and American artists and offers insight into the contemporary art scene of each territory. In this show, it presents works by New York-based artist Blair Thurman, showcasing a series of pop culture-inspired and relic-like artworks channelling childhood and the poetic essence of memory.
Antoine Levi
Piotr Makowski
Founded by Antoine Levi and Nerina Ciaccia, the eponymous gallery opened its doors in 2013 in the heart of the French capital. Its roster includes Polish painter Piotr Makowski, whose work will be featured in the show. Heavily inspired by architecture and literature, the artist's monumental compositions explore the abstraction of objects while challenging humanity's perception of tradition and legacy.
Semiose
Stefan Rinck
For Semiose, founded by Benoît Porcher in 2007, humour and a 'certain poetry of the absurd' are recurring themes in the work they exhibit. For 'Emmanuel', they have selected sculptural works by German artist Stefan Rinck. These include stone figures of animal, monsters, and other fantastic creatures, creating a dream-like environment inspired by ancestral myths and legends.
In this humanistic initiative, Perrotin, alongside each gallery involved, highlights the strength, cohesion and unity that emanates from Paris' local art scene and beyond.
INFORMATION
'Restons Unis: Emmanuel', until 6 June, Galerie Perrotin. perrotin.com
ADDRESS
Galerie Perrotin 10 Impasse Saint-Claude 75003 Paris