Leica Women Foto Project Award 2023: meet the winners
The Leica Women Foto Project Award 2023 winners give voice to the marginalised through photography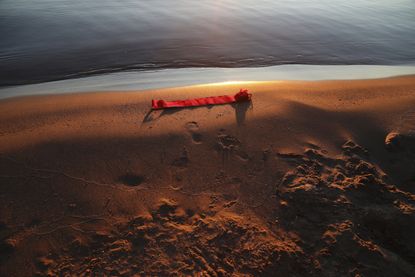 (Image credit: Eli Farinango)
In partnership with Leica
The Leica Women Foto Project Award 2023 – representative of the German camera specialist's ongoing commitment to giving voice to the marginalised and empowering the female point of view through photography – highlights an alternative perspective, capturing moments that bear witness to how women based in the UK, Mexico, Canada and the US see and interact with our world.
The recipients of the Leica Women Foto Project Award 2023 (the fourth annual award) are Anna Filipova (UK), Eli Farinango (Canada), Greta Rico (Mexico), and Mary F Calvert (US).
The panel of judges – including photojournalist Liz Johnson Artur, photographers Mary McCartney and Amanda de Cadenet, and newspaper picture editors Sara Rumens and Natalia Jiménez – based their selections on quality of photography, sophistication of project and a dedication to the medium of photography. Each winner receives a Leica SL2-S camera, a Vario-Elmarit-SL 24-70mm f/2.8 ASPH lens, and a cash prize of US$10,000.
Leica Women Foto Project Award 2023: the winners
Photographer Mary F Calvert – a finalist in the Feature Photography category at the 2020 Pulitzer Prizes and a past winner at both the World Press Photo Contest and the Cliff Edom New America Award, US – specialises in work that throws light on social justice issues often neglected by the media at large. Catching the judges' eye was a nine-year project that documents military sexual abuse (MST) in the United States Armed Forces. The raw and emotive images in Left Behind depict the impact of MST on victims and their families, as well as the scars of trauma that are left long after events of sexual assault.
Documentary photographer Greta Rico's harrowing and illuminating project Substitute Mother tells the story of her cousin Siomara, who took on a maternal role in a three-year-old niece's life following her mother's murder. Portraying a narrative of femicide, the series is a powerful story telling of the psychosocial impacts that cause trauma in orphan children, in mothers, sisters, grandmothers and aunts.
Eli Farinango explores the vastness and beauty of the healing journey through her documentary photography, exploring spaces to reclaim ancestral memory through imagemaking and collaborative processes. Farinango was born in the indigenous Kichwa territory of Ecuador and raised in Canada; her series Wilkay, traces her experience of transformation and healing from abuse and mental illness, allowing her to reconnect with her roots, family and ancestors in the process.
Visual journalist Anna Filipova chose to explore unique environmental and scientific topics in remote and inaccessible areas. Using captivating imagery and compelling stories to raise awareness for climate change, her project Arctic: The Darkest Hours explores Ny-Ålesund, Svalbard, where the largest laboratory for modern Arctic research is based and research scientists make up most of the population. This area has the cleanest air on Earth, but also receives circulated air from Europe and North America, allowing for extensive research of post-global warming conditions.
With over 100 years of history, the Leica brand represents a beautiful combination of art and engineering with the future of form and functionality. Based in Wetzlar, Germany, the renowned manufacturer of cameras and sport optics products is committed to supporting the creation and preservation of iconic photography, past, present and future and the artists behind it. With the Leica Women Foto Project Awards, says Lydia Beagelman of Leica Camera UK, 'We hope to encourage the development of underrepresented visual storytellers and provide additional support for their future projects.'