'Pharma' graphic design exhibition, New York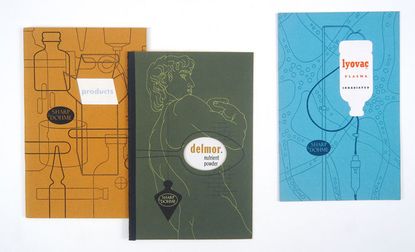 (Image credit: press)
Pharmaceutical companies spent big bucks on advertising in the mid-20th century to flog their latest 'miracle' drug to the medical industry and consumers, drafting in an impressive roster of graphic design luminaries, such as Herb Lubalin (opens in new tab), Andy Warhol (opens in new tab) and Lester Beall (opens in new tab). Now New York's Cooper Union (opens in new tab) is casting fresh light on this advertising heyday with an exhibition entitled 'Pharma' at the Herb Lubalin Study Center (opens in new tab). Spanning the 1940s to the 1960s, it brings together rare works and examines the lasting impact that graphic design had on the industry.
The seed for the show was planted when curator Alexander Tochilovsky struck upon a few remarkable pieces in the Herb Lubalin archive but couldn't determine the designer. Eventually he discovered the genius in question was Alexander Ross. The designer's punchy promotional material for Sharp & Dohme in the 1940s - featuring clever plays with outlines and negative spaces - triggered Tochilovsky to re-examine graphic design in the medical realm.
Using material from the Herb Lubalin archive, as well as pieces borrowed from the designer's families and Milton Glaser's archives, the exhibition focuses on the period when medicines like penicillin were first developed, fuelling the market for pharmaceutical advertising. Advertising agencies suddenly became more daring as this exhibition bears testament.
ADDRESS
41 Cooper Square, New York, NY 10003
VIEW GOOGLE MAPS (opens in new tab)