Pantone offers a taste of its 2019 Color of the Year in pop-up pantry installation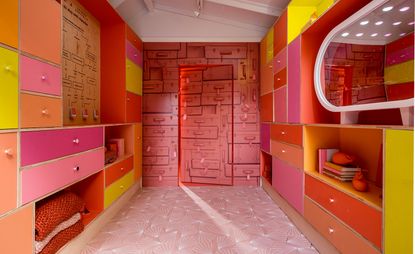 (Image credit: Elizabeth Lippman)
Pantone revealed its 2019 Color of the Year – the 'life-affirming' shade of Living Coral – with the debut of a multi-sensory installation at the Royal Palm South Beach resort during Art Basel Miami Beach. The global authority on colour teamed up with Tribute Portfolio, Marriott International's newest collection of boutique hotels, for the first in a series of immersive tributes to colour that will travel globally to select boltholes from the group in 2019.

Fittingly set within a beach house-like structure, the Pantone Pantry puts a whimsical spin on the typical hotel experience with a concierge desk fashioned from vintage luggage and a bellhop's cart while a wunderkammer of coral objects awaits inside. Cabinets were dressed with books, homeware, travel gadgets and other surprises – one cupboard opened up to reveal a whirring confetti installation. A hidden door leads to a secret hotel guest room, where pop art illustrator Gabriel Alcala and supergroup LSD (made up of Labrinth, Sia and Diplo) have devised psychedelic pop animations, digital projections and a groovy playlist to bring the colour to life.
'Like travel, colour enhances and influences the way we experience the world,' explains Pantone Color Institute vice president Laurie Pressman. 'Linked to tactility and human connection, Pantone 16-1546 Living Coral is a warm and welcoming shade that fosters immersive experiences and encourages playful expression.' The 'sociable and spirited' colour of orange with a golden undertone was selected as a reaction to our increasingly tech-centric lives. Effervescent and naturally vivid, Living Coral represents a fusion of our 'natural and digital realities'.

'Tribute Portfolio has struck a chord with those who seek out independent experiences and crave a connection with the community when traveling,' says Amanda Nichols, global brand director of Tribute Portfolio. To wit, each iteration of the Pantone Pantry will be customised to reflect the individual character of its host city. The installation will travel to The Alida hotel in Savannah, Georgia in 2019, as well as being reimagined for Tribute Portfolio's forthcoming property in Rotterdam, set to open in March next year inside a former printing house and artists' studios.
INFORMATION
For more information, visit the Tribute Portfolio website and Pantone website