Oliver Beer talks animism, archives and material culture ahead of his Met Breuer show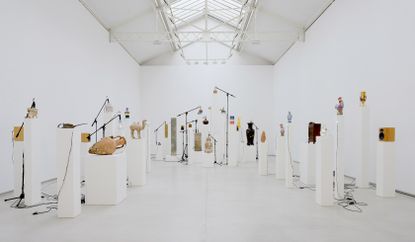 (Image credit: Courtesy of Galerie Thaddaeus Ropac)
Wallpaper* Newsletter
Receive our daily digest of inspiration, escapism and design stories from around the world direct to your inbox
Thank you for signing up to Wallpaper. You will receive a verification email shortly.
There was a problem. Please refresh the page and try again.
'This is a Ptolemaic pot, and it's got a little face on the front. It's the household god Bes – a jolly corpulent figure who you'd have in a shrine at home,' explains artist Oliver Beer. The 2,000-year-old object he points to could well belong to the Louvre, though on this day we are touring Beer's solo exhibition at Galerie Thaddaeus Ropac in Paris – comprising work from 2018 to the present day.

Titled 'Household Gods', the show consists of four installations, each comprising between four to 16 objects. They range from a German artillery shell from the First World War, to a Ming dynasty horseman sculpture, to a Japanese Arita porcelain urinal (exported to Amsterdam in the 18th century, where it was decorated in the style of the day). For each installation, Beer mined the personal collection of a family member for items of significance, which he has displayed on minimal white plinths that lend an aura of grandeur.

'Each object has a story of survival. Taste, chance, politics, and balance of power all determine why certain objects come out of certain places at certain times,' he remarks, marvelling at the fact that each piece would have passed through many hands in many lands, before they wound up respectively with his grandmother, father, mother and sister in Kent, England. The installations present an affectionate, while whimsical portrait of Beer's family, while suggesting the ways in which contemporary Western culture has assimilated varying civilisations and epochs.
It's the microphones pointing into each object that animates the installations. They play with resonant frequency, an idea that Beer has explored for many years. 'The form and the geometry of each object in the world that's hollow creates a [musical] note,' he says. He'd sung into the interior of each object in the show, going through the chromatic scale to discover the specific note at which sound would reverberate.

Now, a tiny speaker within each object emits its innate note, which rumbles within its interior and makes it appear to sing into the microphones. Together they form a gentle chorus, at once primeval and cerebral, that speaks to the human impulse to breathe life into inanimate objects. 'We have a retinal approach to the world,' Beer continues. He wants people to instead 'try and think about objects, not as we see them but as we hear them.'

This summer, Beer will be taking his work to a new level with a show at the Met Breuer in New York, featuring a single, monumental installation occupying the entire top floor. In preparation for the show, he's been spending time in the Met's extensive archives. 'The Met is an encyclopaedic museum, so its archives are by definition a portrait of humanity,' he says.

But it's also a portrait of the people who created the museum and continue to expand its holdings. 'I'm interested in why that hectare of New York should be the home of such an extraordinary, but also idiosyncratic collection. There are reasons why certain objects come in certain waves, and they're completely tied to balances of power.'
The new installation will involve 32 objects, each corresponding to a different note on the chromatic scale, so collectively they become an instrument. All of them will connect to a keyboard. 'When you press down middle C on the keyboard, the Mesopotamian Cow that sings a middle C will sing the C.' Sound, then becomes the lingua franca of items of diverse origin. Beer is inviting composers to come and make music with the installation, with a concert planned for every week.

In uncovering the aural abilities of the Met's artefacts, he will encourage viewers to rediscover the pieces; not only to see them, but hear them anew. Quite literally in fact, as resonant frequencies (unlike appearances) stay constant from the moment an object is created, undimmed by the passage of time.
INFORMATION
'Vessel Orchestra' is on view from 2 July – 11 August at the Met Breuer, New York. For more information, visit Oliver Beer's website and the Galerie Thaddaeus Ropac website
Receive our daily digest of inspiration, escapism and design stories from around the world direct to your inbox
TF Chan is a former editor of Wallpaper* (2020-23), where he was responsible for the monthly print magazine, planning, commissioning, editing and writing long-lead content across all pillars. He also played a leading role in multi-channel editorial franchises, such as Wallpaper's annual Design Awards, Guest Editor takeovers and Next Generation series. He aims to create world-class, visually-driven content while championing diversity, international representation and social impact. TF joined Wallpaper* as an intern in January 2013, and served as its commissioning editor from 2017-20, winning a 30 under 30 New Talent Award from the Professional Publishers' Association. Born and raised in Hong Kong, he holds an undergraduate degree in history from Princeton University.