Noma Bar exhibition, London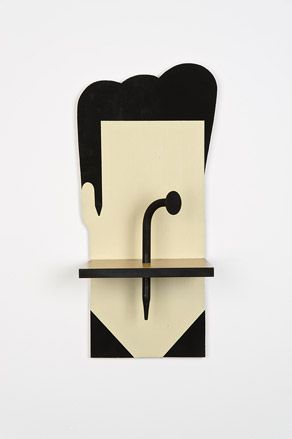 (Image credit: Francis Ware)
Noma Bar's new show at London's KK Outlet packs another dark, comedic punch. Titled 'Bitter Sweet', it reveals the duality of the illustrator's oeuvre, in which strong political messages are mixed with playful observations.
The Israeli artist is a master of simplicity. His clever manipulations of everyday icons force you to look several times. They're like comic remarks delivered with an utterly dead-pan expression or cutting comments to which there's no comeback.
In this exhibition's never-seen-before woodcuts, installations and screen prints, Bar ingeniously plays with negative spaces - so that the trigger of a gun reveals a dead man's head and the blank hole of a hooded figure's face is also the flame of a match.
While Bar - cover artist for our W*097 Secret Elite issue - is best known for his subverted images of famous faces (remember Saddam Hussein with features made from a radio active symbol and Bob Dylan wearing a guitar as sunglasses?), this show is more about his observations on life around him and the forms and faces he encounters.
ADDRESS
42 Hoxton Square
London N1 6PB
VIEW GOOGLE MAPS (opens in new tab)