In Dallas, Nasher Prize Dialogues will explore sculpture's new frontiers
Inspired by 2022 Nasher Prize winner Nairy Baghramian, the latest talk in this international discussion programme – 'The Uncanny Politics of Objects', 2 April 2022 – takes a boundary-breaking turn with a panel spanning art, architecture and design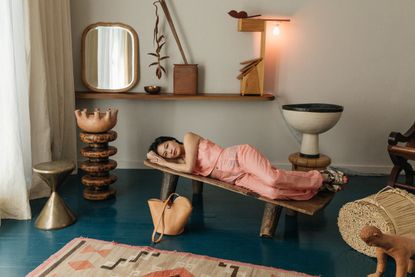 (Image credit: Maureen Evans)
Announced annually by the Nasher Sculpture Center in Dallas, the Nasher Prize honours a living artist who elevates the understanding of sculpture. Its accompanying discussion programme, the Nasher Prize Dialogues – a discursive platform that includes panel discussions, lectures, and symposia – occurs in cities around the world annually, offering engagement with various audiences, and providing myriad perspectives and insight into the ever-expanding field of sculpture.
Iranian-born German artist Nairy Baghramian, named as 2022 Nasher Prize Laureate last September, is set to be presented with her prize at a ceremony on 2 April 2022. Considerate of the human relationship with the body, Baghramian's visual language is rooted in traditions of sculptural form and shape, explains Nasher Prize juror, artist Phyllida Barlow: 'But she transforms those traditions into profoundly personal relationships with diverse references – from the architectural to the anthropomorphic – where curvaceous, stretched, folded forms compete with linear structures, all delivered with intensely researched and deft technical and material innovations.'
Baghramian's interest in the relationship between sculpture and design is the inspiration for the latest iteration of Nasher Prize Dialogues in a talk called 'The Uncanny Politics of Objects' that will take place on 2 April 2022, starting at 11 am CDT. It features leading curators, artists and designers, at the Crow Collection of Asian Art of the University Texas, just across the street from the Renzo Piano-designed Nasher Sculpture Center. The discussion will also be livestreamed for audiences globally via Vimeo (opens in new tab).
'Nasher Prize Dialogues: The Uncanny Politics of Objects' will include panellists that share an interest in breaking down the boundaries between three-dimensional disciplines. In a wide-ranging conversation about objects that hover between identities—sculpture, design, architecture—with varying degrees of utility, it will include Korean-born, New York-based architect and designer, Minjae Kim; Los Angeles-based designer and artist, Peter Shire; Brooklyn-based designer and artist Katie Stout; and Mexico City-based writer and curator Su Wu. The talks will be moderated by Sarah Schleuning, the Margot B Perot senior curator of decorative arts and design at the Dallas Museum of Art.
Previous Nasher Dialogues programme partners span from Reykjavik Art Museum to Museo Jumex in Mexico City, while past panellists include Nina Baier, Theaster Gates, Pedro Reyes, and Eva Rothschild.
The Nasher Sculpture Center celebrates sculpture in all its forms and is home to the Raymond and Patsy Nasher Collection, one of the world's finest collections of modern and contemporary sculpture. It boasts some 300 masterpieces, by Calder, de Kooning, di Suvero, Giacometti, Gormley, Hepworth, Kelly, Matisse, Miró, Moore, Picasso, Rodin and Serra.
INFORMATION
'Nasher Prize Dialogues: The Uncanny Politics of Objects' is at the Crow Collection of Asian Art of the University Texas, Dallas, 11am CDT, Saturday 2 April 2022
The programme is available to livestream at this link. (opens in new tab)