Moscow's Regina Gallery hosts a show by Pavel Pepperstein's art collective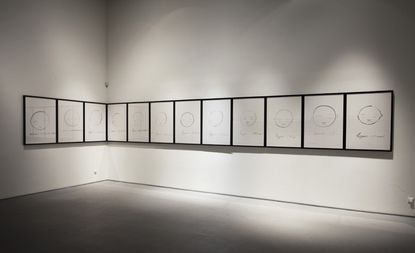 (Image credit: Regina Gallery, London & Moscow)
Pavel Pepperstein is not just a man of the brush. The artist, intellectual and founding member of the conceptual art group Inspection Medical Hermeneutics also dabbles in novel-writing, spoken-word poetry (you might call it rap) and even cooking - he concocted a suitably surreal recipe for oatmeal for our Reigning in Russia issue (W* 164), currently on sale.

This month, however, Pepperstein is going with the title 'installation artist'. On Sunday, Moscow's Regina Gallery launches the latest show by the collective, featuring one of their most enduring works, 'The Pipe or The Alley of Longevity'.

The 1995 work by Pepperstein and his colleague Sergei Anufriev centres around a giant horizontal cylinder, inside which is a room scene furnished like a doll's house - the light at the end of the tunnel, so to speak. It can seem distinctly large and accessible when viewed with the binoculars provided, or microscopic and distant.

Around the perimeter of the space are framed drawings of elderly men, who get even older within each frame, and of young babies, who similarly get younger. The suggestion is that they live outside time, eternally.

The exhibition, which has travelled to galleries across Europe, cuts to the heart of the group's ideas on distance, time and disappearance, and is a departure from Pepperstein's vibrant graphic watercolours, which have earned the artist devotees worldwide.
ADDRESS
Regina Gallery
1, 4th Syromyatnichesky pereulok
105120, Moscow
Russia