Auto-destruct: Lucio Fontana at Tornabuoni Art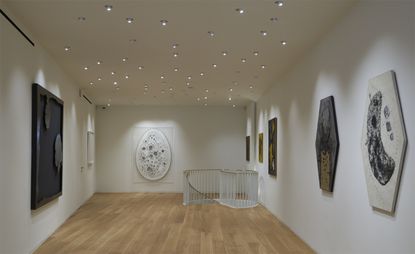 (Image credit: TBC)
'It's an elegant space, and Lucio Fontana is an elegant artist,' said the art critic Edward Lucie-Smith at this week's opening of Tornabuoni Art (opens in new tab), the new Albemarle Street gallery devoted to post-war and Novecento Italian art.

Lucie-Smith sat downstairs, in a room punctured through at either end by white spiral staircases with brass balustrades. The undeniably elegant affair was hosted by gallerist Ursula Casamonti, whose brother Marco renovated the space after the departure of David Linley's furniture boutique. For the first London showing of the Italian-Argentinian artist in a decade, Casamonti hung Fontana's late-career canvases at generous intervals, giving her room to lift them off the wall and display the underside, to great effect.

Yet underlying the elegance was a vaguely threatening feeling that you can't escape in the presence of Fontana's art. Most of the works here – spanning the period of 1955 until just before the artist's death in 1968 – have been vigorously slashed through with knives, pierced with tools and even ripped by hand.

They come from a time when Fontana, formerly a sculptor in Milan and Paris, had largely abandoned the practice. After spending the Second World War in Buenos Aires, he returned to a Milan almost completely destroyed by the Allies. His wounded canvases reflect the city's ruined treasures. In Lucie-Smith's words, 'He wanted to disturb with art that was apparently attacked.'

Fontana's experimentation gave rise to the spatialist movement – a rebuttal of more controlled modernists like Mondrian. Spatialism strived for a new dimension in painting. And the suggestion of a 3D entity beneath the surface is the reason Fontana's torn canvases are as interesting when pulled off the wall, allowing the light to penetrate the ruptures.

The artist never really abandoned sculpture in the end. He simply gave it a new form and direction. And while he was rebuilding his career in this new Italian avant garde, so was Italy rebuilding itself.
INFORMATION
'Lucio Fontana' is on view until 5 December
ADDRESS
Tornabuoni Art
46 Albemarle Street
London, W1S 1JN
VIEW GOOGLE MAPS (opens in new tab)