Both prison and refuge: Louise Bourgeois' Cells at the Guggenheim, Bilbao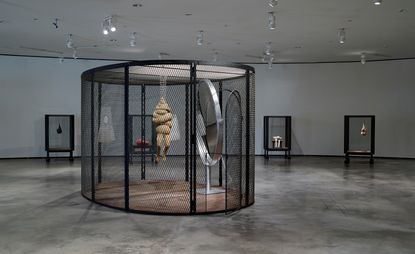 (Image credit: Louise Bourgeois)
Louise Bourgois was 97 when she made the last of her Cell works in 2008, two years before she died.

In Cell (The Last Climb), an open door leads into a rusty wire cage. It's not a prison but a gateway; inside, a spiral staircase leads up and out of the cage to the sky, and large blue glass balls are suspended like bubbles waiting to float free. At the centre of the cage is a brilliant blue rubber droplet like a giant tear – not falling but buoyed by this sense of floaty lightness – which Bourgeois described as a self-portrait.

For an artist who said she made art as a means of survival and a way of confronting fear, this work, a clear metaphor for death, is remarkably uplifting. It's not fraught with anxiety, in the way that her works that typically explore unconscious emotions surrounding childhood memories, growing up, sex and motherhood are. Bourgeois worked tirelessly through her 70s, 80s and 90s with an urgent combative energy that one can only marvel at here. Perhaps by 2008 she was finally ready to let go.

Bourgeois created 60 Cells. Of the 28 on display at the Guggenheim Bilbao, most were created in the last two decades of her life. Each Cell is a world; a stage set to either be contained in, journeyed through, peeked voyeuristically into, or be excluded from.

They are precise, contained, and complete spaces, featuring sculpture and objects that Bourgeois owned or gathered to tell autobiographical stories. Some are more literally based on memories than others. One draws on a memory of her parents' bedroom, another features a marble replica of her childhood home with a guillotine poised above it, anticipating a moment when it might all disappear.

Frank Gehry's gallery interior, a seemingly endless maze of rooms and corridors that curve and twist, grow and shrink, is an invitation to get lost. That suits Bourgeois' work down to the ground, because it's never about what's outside, but always the warped, shape-shifting unpredictability of her interior world.

Like a spider's web, this world is a place of seductive, horrible beauty. Inevitably you are drawn into it, and as you are you begin to see that the unconscious world she was exploring has its own own internal logic. Repeating symbols – mirrors (confrontation of the self), doors (secrets and safety), limbs (impotence), spiders (the mother) – become a language, which help you to interpret her reality. Eventually a bigger picture emerges. The show, like the body itself, is a place of trauma and escapism, fear and magic: both prison and refuge.
INFORMATION
'Structures of Existence: The Cells' is on view until 4 September. For more information, visit the Guggenheim Bilbao's website (opens in new tab)
ADDRESS
Guggenheim Museum Bilbao
Abandoibarra Etorb., 2
48009 Bilbao
Bizkaia, Spain
VIEW GOOGLE MAPS (opens in new tab)