'In A New Place', by Anthony Burrill, London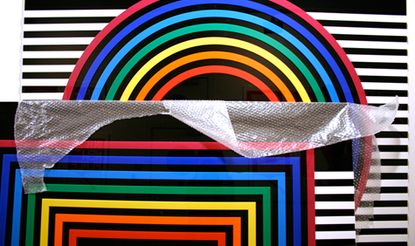 (Image credit: press)
Anthony Burrill's direct approach to visual communication takes a new turn in his latest show at Kemistry Gallery London. Moving away from traditional type-based printing, the graphic artist has expanded his repertoire to include industrial processes - laser-cut Perspex works - and digital prints.
See more of Anthony Burrill's latest show at the Kemistry Gallery
Picking a fitting title for the exhibition given his new direction - 'In a New Place' - Burrill has also chosen a new subject, namely the natural world in its many forms. Still geometric and bold as ever just with fewer words, the rainbows, thunderstorms, rain clouds and sunshine speak of a more systemised world - a new graphic identity for a landscape increasingly at the mercy of mankind and its footprints.
Together with the editioned digital prints, Burrill's large scale, one-off Perspex and mirrored works explore shapes and colours, experimenting with the laser-cut techniques and process of layering. Imposing, mesmerising and poetic, they have a kaleidoscopic quality and simplicity to them that belies their technical precision.
As with previous exhibitions, Burrill took the time to photograph the installation of his pieces specially for wallpaper.com
See more of Burrill's own images from the setting up of the show, exclusive to wallpaper.com
ADDRESS
43 Charlotte Road
London EC2A