Franco Grignani's paintings reveal a hidden side of the graphic design legend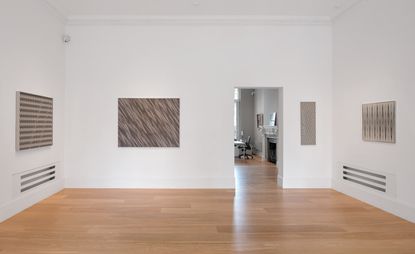 (Image credit: press)
Everyone owns a Franco Grignani design – he's the man behind the iconic Woolmark logo. A forefather of visual communication, and a successful graphic designer and art director, (notably at Pubblicità in Italia, an annual on Italian graphic design, where he worked for 26 years) Grignani was both a prolific creator and a supporter of the emerging graphic design scene in Italy. Yet as a painter, his work has perhaps been less explored in recent years.

In London, Grignani has not been seen for 60 years. 'Grignani did not have gallery representation abroad despite having exhibited in many countries across Europe,' explain M&L Fine Art partners Luca Gracis and Matteo Lampertico, who are bringing Grignani back this month. 'In his case, being considered by many as a talented graphic designer meant that his paintings remained on the sidelines of critical debate around his work, as was the case with Bruno Munari, who also straddled the worlds of visual art and design.'
The exhibition at M&L focuses solely on Grignani's paintings, with 20 carefully selected works from 1952 up to 1975. The works chart, among other things, Grignani's first use of colour, in 1967—with paintings such as Deriva and Dissociazione dal bordo, but his experiments with Op Art go back even further. 'Grignani's role and importance as one of the first Op Art artists of the period is still to be fully recognised. He was already experimenting with an Op aesthetic and techniques ten years before François Morellet or Bridget Riley,' Gracis and Lampertico say.

Looking at paintings from the later period, such as Vibrazioni (1975) with their warping, distorting lines, it's easy to see how ahead of his time Grignani really was – in painting as much as in design. Other innovations in his painting work include the introduction of textured industrial glass and emulsified canvases – giving the opportunity for further optical effects, never seen before.

His aesthetic wasn't popular at the time – but perhaps now resonates with the new taste for 'digital handmade' in contemporary painting, merging traditional technique with the visual vocabulary of advanced technology. 'His artistic language – a strong graphic presence – fits today's tastes, especially among young people.' It seems as though Grignani is long overdue a comeback – and this might only be the beginning.
INFORMATION
'Franco Grignani' is on view until 28 July. For more information, visit the M&L Fine Art website (opens in new tab)
ADDRESS
M&L Fine Art
15 Old Bond Street
London W1S 4AX
VIEW GOOGLE MAPS (opens in new tab)
Charlotte Jansen is a journalist and the author of two books on photography, Girl on Girl (2017) and Photography Now (2021). She is commissioning editor at Elephant magazine and has written on contemporary art and culture for The Guardian, the Financial Times, ELLE, the British Journal of Photography, Frieze and Artsy. Jansen is also presenter of Dior Talks podcast series, The Female Gaze.