Fiona Rae: New Paintings exhibition at Timothy Taylor Gallery, London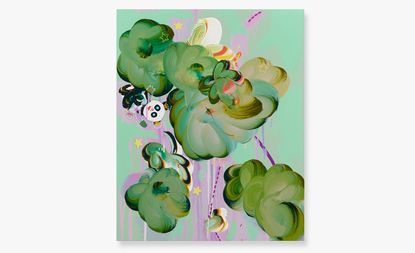 (Image credit: Courtesy: Fiona Rae; Timothy Taylor Gallery, London)
Fiona Rae (opens in new tab)'s paintings are many-splendored things, layered with painterly swirls and flourishes so thick they seem to have been laboured over for years. Yet these new paintings - at Timothy Taylor Gallery (opens in new tab) until 23 February - are all from 2012, a year, as for many Londoners, of great inspiration.

Last spring we covered the YBA's first major retrospective at Leeds Art Gallery (opens in new tab), a decade of the artist's homage to the digital age. By contrast her latest oeuvre is more organic in nature. It began with a string of embroidered-silk pandas Rae picked up in New York's Chinatown. They appeared 'both ludicrous and ominous at the same time', said Rae. She resolved to paint them various settings to inhabit.

The dozen canvases are informed by Chinese landscape painting, a natural habitat for her dancing pandas, with classical hanging gardens and sweeps of deep colour. To these Rae adds odd, unnatural effects: cheeky icons in rainbow colours peeking out of the panoramas. You'd think she'd watched too much Saturday-morning animation as a child in Hong Kong.

Her titles are provocatively ambiguous, like misguided Chinese translations (take: 'Present party for you', or 'As if you're looking for blue skies happiness'). Rae calls them 'bouquets of words' that communicate the flavour and mood without directing the viewer towards any single truth.

Her own descriptions fail to elucidate. 'A star shape is decorative and not decorative,' she says. 'A dotted line is informative and not informative.' Like a cartoon cell, she says, the story changes in an instant as your eye travels around the canvas. Think, but not too much, she seems to say. The real sentiment - wildly complex or beautifully simple - is up to you.

It's exactly that exuberant appeal that's kept Timothy Taylor in Rae's orbit throughout three solo shows at the gallery. And it's what captivates her patrons - after just a few days, this show is already almost entirely sold out.
ADDRESS
Timothy Taylor Gallery
15 Carlos Place
London W1K 2EX
VIEW GOOGLE MAPS (opens in new tab)