Edmund de Waal's library of exile brings to light lost literature in Venice
The British artist and author is paying tribute to the 'heart' of the Jewish Ghetto at the 58th Venice Biennale with a duet of exhibitions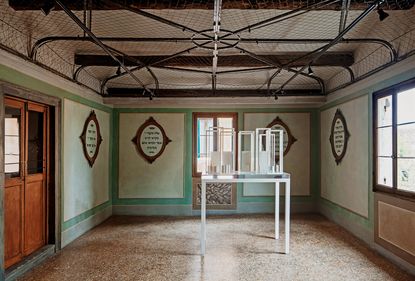 (Image credit: press)
Given that he is both author and artist, it's fitting that Edmund de Waal should be holding two exhibitions in Venice: one featuring his trademark porcelain vessels, the other based around literature. Collectively entitled 'psalm', they take place at the Canton Scuola, a 16th-century synagogue in the Ghetto Nuovo, and at the nearby Ateneo Veneto.

One of five synagogues in the Venetian Ghetto, the Canton Scuola is part of the Jewish Museum and for the first time is allowing art in its Women's Gallery. Twelve of de Waal's vitrines holding white porcelain, marble and gold will line its walls.

At the Ateneo Veneto, a centre for cultural debate since the 15th century, de Waal is making a porcelain pavilion that will house 2,000 books by exiled writers from Ovid to the present day. Its exterior is coated with gold leaf, on to which de Waal has inscribed the names of the lost libraries of the world. Among them is the classical library of his great-grandfather, Viktor von Ephrussi, (the looting of which in 1938 is described in de Waal's 2010 memoir, The Hare with the Amber Eyes), and the extinct libraries of Timbuktu, Aleppo and Mosul.
RELATED STORY
Among the weighty tomes, de Waal has added four vitrines of porcelain vessels. 'My library for the Ateneo is the most significant sculpture of my life,' he says. 'It's a project I have always dreamed of doing. It's about exile; what it means to have to move to another country, to speak another language.' Visitors will, he hopes, browse the shelves for books by exiled writers and celebrate works in translation, sit and take time instead of ticking his space off a pavilion hit list.

For the duration of the Venice Biennale (opens in new tab), both spaces will host a programme of events focusing on Jewish Venice, contemporary poetry and literature. The hope is that they become centres of contemplation and dialogue. 'My project takes places that have been overlooked and brings energy back to them,' says de Waal, 'and it brings the Ghetto into the heart of the biennale.'
INFORMATION
'psalm' is on view from 8 May – 29 September. For more information, visit Edmund de Waal's website (opens in new tab)
Emma O'Kelly is a contributing editor at Wallpaper*. She joined the magazine on issue 4 as news editor and since since then has worked in full and part time roles across many editorial departments. She is a freelance journalist based in London and works for a range of titles from Condé Nast Traveller to The Telegraph. She is currently working on a book about Scandinavian sauna culture and is renovating a mid century house in the Italian Lakes.