Ebook: 'Passages in the Making of a Book' - a study of Xu Bing's iconic work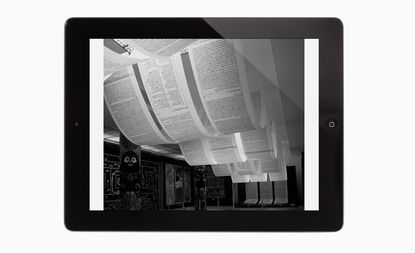 (Image credit: Xu Bing)
Even with the wealth of art coming out of China this century, historians are determined not to forget the cultural output of the 20th. In this vein the digital book publisher Mapp Editions has launched 'Passages in the Making of a Book', a chronicle of one of China's most important contemporary art installations: 'Tian shu (Book from the Sky)' by the artist Xu Bing.

Xu Bing's original artwork was a sensation when it was unveiled in 1988. Having painstakingly designed 4,000 characters that resembled Chinese script but were in fact devoid of any meaning, the artist hand-printed reams of unintelligible text, which hung from the walls and rafters of the National Art Museum of China in Beijing. The clever wordplay drew attention to China's troubled relationship with the written word and the subversion of vital texts by the authorities.

The newly launched ebook seeks to celebrate Xu Bing's feat and discuss its continued relevance. Images of the epic work and the original hand-carved wood printing plates are interspersed with essays by a handful of art scholars, who offer their revelations, plus observations from the artist himself. In Xu Bing's own commentary he writes of spending 'four years of my life making something that says nothing' and describes his artistic process of printing a Song-style book using moveable type.

Though rare-book publisher Bernard Quaritch printed a version of 'Passages in the Making of a Book' in 2009, Mapp's new digital version is the most comprehensive text to date, with searchable text, a character dictionary and zoom functions on the intricate images.