'Lines of Sight': Carmen Herrera's minimal abstraction takes over the Whitney Museum of American Art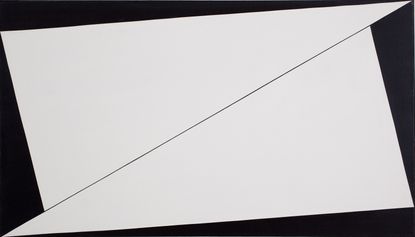 (Image credit: Carmen Herrera, Ikon Gallery)
As a Cuban female artist in the '50s, Carmen Herrera did not have it easy in making a name for herself in the art world. Not only was she a woman and an immigrant, but she emerged at a time when her minimal abstraction was out of vogue compared to the heavy-handed gestural work of the abstract expressionist movement. But that did not make Herrera give up; despite her lack of critical success, she soldiered on, diligently working daily in her studio. More than half a century later, the 101-year-old artist is finally getting the attention she deserves; Akris creative director Albert Kriemler based his spring/summer 2017 collection on her work, and at last, her first museum exhibition, 'Carmen Herrera: Lines of Sight', is on view at the Whitney Museum of American Art through New Year and then at the Wexner Center for the Arts in Columbus, Ohio.

The exhibition follows Herrera's career during a pivotal time in her life, from 1948 to 1978, from when she was 33 to 63. She married an American schoolteacher and immigrated to the United States from Havana in 1939. From there, the two moved to Paris for two years, where Herrera developed her methods of abstraction, using tape to form precise lines onto a canvas, creating minimal, geometric compositions. The exhibition follows her time in Paris, and her return to New York. It was there that she created her Blanco y Verde series — sparse slivers of green against a white canvas, and the opposite, thin triangles of white against a green background. It then goes on to Painting, Drawing, and Estructura — the dichromatic sculptures, drawings and paintings that are formed from two intersecting shapes.

As Herrera once said, 'I believe that I will always be in awe of the straight line, its beauty is what keeps me painting.' Perhaps it is just the opposite, because Herrera's work makes its observers see the beauty that inspired her throughout her career.
INFORMATION
'Lines of Sight' is on view until 2 January 2017. For more information, visit the Whitney Museum of American Art website (opens in new tab)